Kestrel TSCM Software | Kestrel TSCM Professional Software
Exclusive USA Sales & USA Distribution
Kestrel TSCM Software is an industry leading RF spectrum analysis software. Kestrel software leverages advanced software defined radio (SDR) concepts to deliver standalone RF spectrum surveillance, monitoring, collection and analysis functionality. This award winning software is well suited for professional Technical Surveillance Countermeasures (TSCM) and Signals Intelligence (SIGINT) applications. Kestrel TSCM Software is a highly deployable, mission scalable, travel friendly, full featured RF spectrum analysis software.
Learn more about the features of the Kestrel TSCM Software. 
Learn more about USA Kestrel Remote Virtual Classroom Training.
USA Sales & USA Distribution: REQUEST QUOTE
Why Choose Kestrel
Delivers exceptional value, without the need to compromise on features and functionality.
Supports a wide range and level of professional receivers and spectrum analyzers. (See full list below.)
Features an intuitive, user-friendly operator centric user interface.
Supports a variety of global and independent preferences to improve operator situational awareness.
Capability to import floor plan, vertical riser plot, geographical area map or photo realistic virtual realistic images.
Provides "on‐the‐fly" multiple receiver "hand‐off" of the spectrum and demodulated signal events to all other supported and connected SDR search receivers and spectrum analyzers.
Graphical DSA model permits the import of floor plans, vertical riser, geographical maps, 3D rendering and photographs of the target area for comparative analysis of all collected data.
Comprehensive standards based report management resource that allows all aspects of the mission or assignment to be combined into a signal automatically structured and professionally formatted document.
See the Kestrel TSCM Software brochure for additional information.
Kestrel TSCM Software License
A single full software license is permanent across two (2) computers with up to two (2) SDRs.
There are no annual maintenance, or upgrade fees within the same software generation.
Supports Dual Receiver Operation (DRO) at the time of purchase, or as deployment needs and requirements change.
Updates, bug fixes, new features and enhanced functionality are always provided free of charge within the same generation of the software.
Additional ASKs and optional software modules (OPT AEC, OPT CLP, OPT AMCS, OPT TCP, OPT DTAP-GPS, etc.) require an upgrade fee.
If customers choose to upgrade to a new generational software release, an upgrade fee will apply. However, upgrading is a choice as the prior generation of the software will remain supported.
Software updates are provided online through ComSec LLC's secure portal.
Optional Modules
Kestrel Optional Modules enhance its capabilities and functionality. Optional Modules include: OPT AEC (Automatic Export Control), OPT CLP (Command Line Programming) , OPT AMCS (Automatic Measurement and Collection System), OPT TCP (Tap Capture Plot) and OPT DTAP-GPS (Dynamic Trace Autonomous Platform GPS). Learn more about OPT Modules.
USA Sales & Distribution, Call ComSec LLC at 800-615-0392 or REQUEST QUOTE
Operational Advantages
Mission Agnostic By Design: Field deployment ready for virtually any RF based surveillance or monitoring requirement.
Low Profile & Travel Friendly: Completely portable as a component based spectrum surveillance and monitoring system analyzer.
Field Serviceability: Swapping out component level hardware is fully supported, and considered a major benefit.
Scalable Solution: Start small or start big, based on budgetary and anticipated deployment requirements.
SDR Hardware Upgradable: Upgrade or add the latest SDR hardware.
Future Proof Architecture: SDR hardware, host computer platform and antenna technology are field upgradable as mission requirements change.
Host Computer Versatility: Upgrade, replace and customize the host computer hardware at any time.
Compatible With the Following Spectrum Analyzers
Signal Hound SDR Models: SM435B (pending), SM200C Photonic , SM200 B, SM200A, BB60C, BB60A, SA-124B, SA-44B.
ThinkRF SDR: R5500-408, R5500-418, R5500-427, R5750-408, R5750-418, R5750-427
Rhode & Swartz SDR Models: EM100 (OPT RC + PS) 9 GHz to 3.5 GHz, EM100 (OPT RC + PS) 9 GHz to 7.5 GHz, PR100 (OPT RC + PS) 9 GHz to 3.5 GHz, PR100 (OPT RC + PS) 9 GHz to 7.5 GHz.
Tektronix SDR Model: RSA306-B
Anritsu Corporation SDR Models: MS2090A (pending), MS272xT, MS272xC
Shearwater TSCM SDR Model: Merlin MK 4 (pending), Merlin MK 3
CRFS SDR Model: RFeye Node 10 MHz to 6 GHz, RFeye Node 10 MHz to 18 GHz.
Keysight | Fieldfox Handheld Microwave Spectrum Analyzer Model:  N9962A 5 kHz to 50 GHz
SDR Play Model: RSP2PRO (Uncalibrated IQ)
RF (Antenna) Switch Support | Mini Circuits: RC‐1SPDT‐A18 DC to 18 GHz 2 Ports, RC‐1SP4T‐A18 DC to 18 GHz 4 Ports, RC‐1SP6T‐A12 DC to 12 GHz 6 Ports.
ICRON (Fiber‐Optic) Remote Hardware: Spectra 3022 Multi Mode | 50/125 100 meters, Raven 3124 Multi Mode | 50/125 200 Meters.
For additional information about SDR compatibility, please reference the Kestrel TSCM Software brochure.
ComSec LLC also provides mobile, field ready kits with the Kestrel TSCM Pro Software. Learn more about ComSec's Kestrel Surface RF Locator Kits or the Predator RF Hunter.
Learn more about USA Kestrel Remote Virtual Classroom Training.
Awards
CTSC 2013 and CTSC 2014 Software Defined Radio (SDR) Innovation, Research and Development Excellence Award.
2013 Espionage Research Institute International (ERII) Glenn H. Whidden Award for Best New TSCM Product.
About Kestrel TSCM Software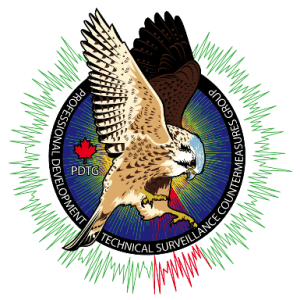 ComSec LLc is the exclusive sole source distribution partner for Professional Development TSCM Group Inc., for Kestrel TSCM Professional Software in the United States of America (USA) including all states and territories, representing US Government / US Military, Commercial Interests, and third-party Military Contractor Sales. ComSec LLC is also the exclusive distributor for Professional Development TSCM Group Inc., of the Kestrel TSCM Software in North America and South America.
Kestrel TSCM Software is a Canadian innovation. Kestrel TSCM Software purchased on ComSe'c web site is delivered electronically by ComSec LLC. As well, Kestrel TSCM software updates are also provided by ComSec LLC via our secure portal.
Kestrel TSCM® Software is a product of the Professional Development TSCM Group Inc. of Canada. Kestrel TSCM® is a registered trademark of PDTG Inc.