Predator RF Hunter Spectrum Analysis Kit
Featuring Kestrel TSCM Pro Software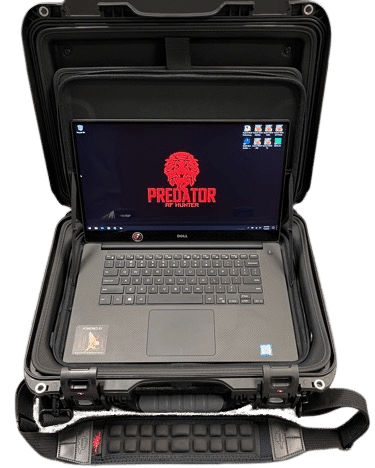 ComSec's Predator RF Hunter Kit is a mobile, field ready Radio Frequency (RF) spectrum analysis solution. The Predator RF Hunter is a fully preconfigured, spectrum analysis system provided in a hard case.
The system is powered by the award winning Kestrel TSCM Professional Software, and features either a Signal Hound BB60C 6 GHz or SM200B 20 GHz software defined radio (SDR). Together with an optimized laptop, the Predator RF Hunter provides a fully featured, operator centric RF collection and analysis experience that is unmatched in the industry.
The Predator RF Hunter is optimal for professional technical surveillance countermeasures TSCM, SIGINT, intelligence, counter terrorism, managed Remote Spectrum Surveillance and Monitoring (RSSM), the law enforcement community, government, military, space, and spectrum regulatory agencies.
ComSec LLC is the exclusive, sole source COTS provider of the Kestrel TSCM Pro Software in the United States of America, and the Predator RF Hunter.
Read the Predator RF Hunter Brochure.
REQUEST QUOTE
---
Kestrel TSCM Pro Software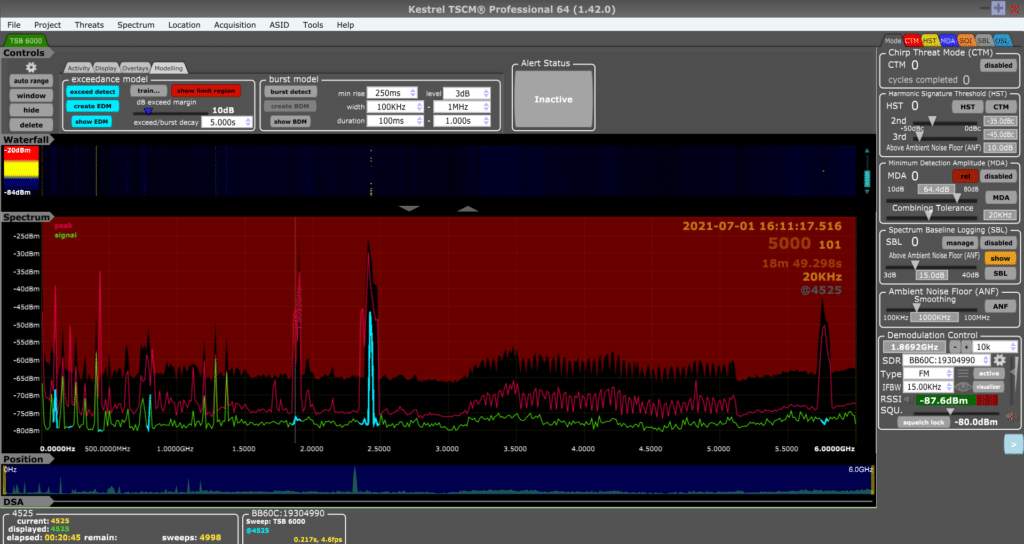 The ComSec Predator RF Hunter features the Kestrel TSCM Pro Software. It is a powerful, full featured, operator centric professional Technical Surveillance Countermeasures (TSCM) and Signals Intelligence (SIGINT) software.  More specifically, Kestrel leverages advanced software defined radio (SDR) concepts to deliver standalone RF spectrum surveillance, monitoring, collection and analysis functionality. And, it is a highly deployable, mission scalable, travel friendly, full featured RF spectrum analysis software for professionals.
With Kestrel Software, the technical operator is back in command of the analytical process. Accordingly, the software features an intuitive, user-friendly operator centric user interface. And, the technical operator can setup, navigate, view and analyze multiple instances of independent spectrum and waterfall data sets. As well, Kestrel supports a variety of global and independent preferences to improve operator situational awareness.
Learn more about the Kestrel TSCM Pro Software features, functions and optional modules.
---
Signal Hound Spectrum Analyzers
The ComSec Predator RF Hunter is powered by a Signal Hound spectrum analyzer. Signal Hound software defined radios (SDR) are  high-performance RF spectrum analyzers and monitoring receivers, designed for fast and accurate RF data analysis at the lowest cost possible.
The BB60C features: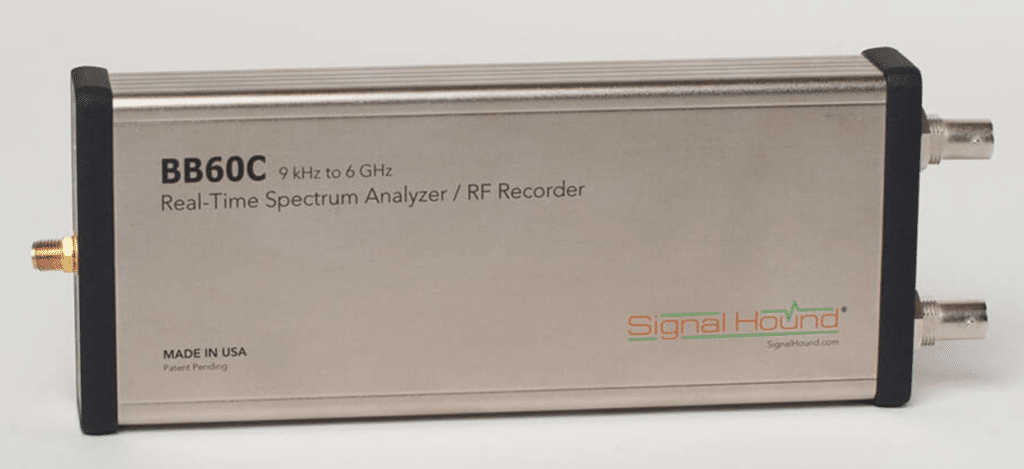 9 kHz to 6 GHz Spectrum Analyzer and RF Recorder
Instantaneous bandwidth of 27 MHz
Streams 140 MB/sec of digitized RF to the PC utilizing USB 3.0
Sweep speeds of 24 GHz/sec
Standard Temperature 0C to +65C
Learn more about the Signal Hound BB60C RF spectrum analyzer features and functions.
The SM200B features: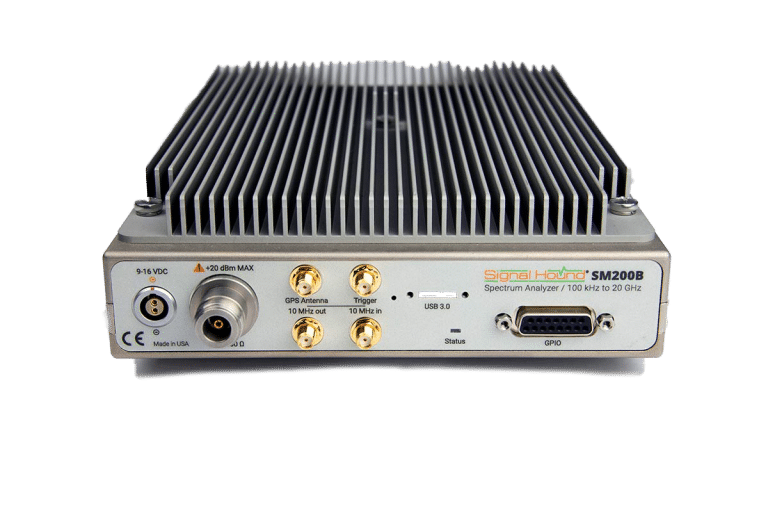 Tunes from 100 kHz to 20 GHz
160 MHz instantaneous bandwidth (IBW) calibrated I/Q capture
2-seconds of 160 MHz bandwidth block transfer buffer
Sweeps at 1 THz/sec at 30 kHz RBW
110 dB of dynamic range
Ultra-low phase noise
GPIO port antenna switching
2-second I/Q buffer over USB 3.0 to the PC.
Learn more about the Signal Hound SM200B RF spectrum analyzer features and functions.
Signal Hound SDRs are manufactured in the USA.
REQUEST QUOTE
Predator RF Hunter Features
The Predator RF Hunter is a true mobile, SIGINT solution. After use, disconnect the laptop from the SDR and antenna, store the accessories in the lid organizer (power cable, mouse, antenna, etc.), and place the laptop in the provided case. Close and secure the lid and you're ready to go.
The 6 GHz unit can be stored in an overhead bin or under the seat of most commercial or private aircraft. The 20 GHz model is designed as a check bag for commercial aircraft. Each model is supplied with TSA locks.
REQUEST QUOTE
6 GHz Kit Closed                                         6 GHz Kit Operating with Computer Open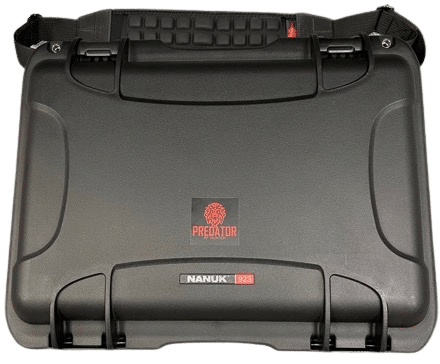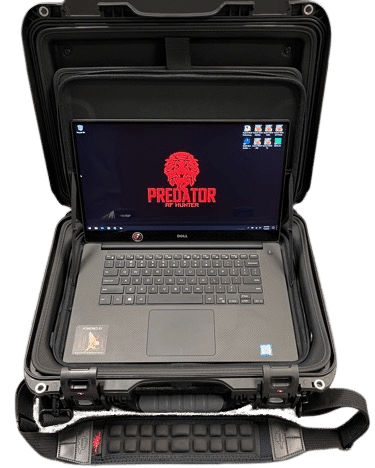 Predator RF Hunter Components
The Predator RF Hunter Standard includes:
Optimized Laptop
Kestrel TSCM Pr0 Software License (Optional Modules Available)
Signal Hound software defined radio (6 GHz or 20 GHz)
Mouse
USB 3.0 powered HUB
Hard Case (6 GHz with shoulder strap, 20 GHz rolling case)
REQUEST QUOTE