AirShield
Wireless Intrusion Detection for WiFi, BlueTooth & Cellular BTS
If It's A Struggle to Identify Wired and/or Wireless Devices Within Your Environment, You Need AirShield !
AirShield Eliminates the Security Blind Spots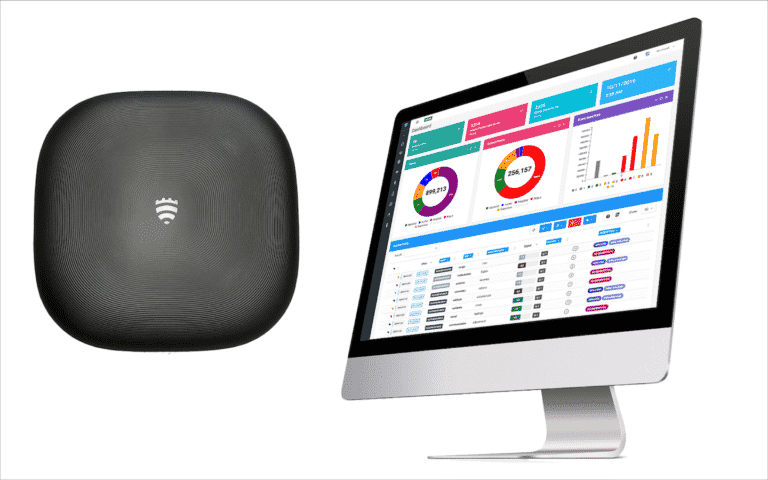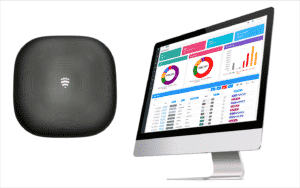 AirShield is a powerful, non-intrusive wireless intrusion detection system. It provides real-time visibility, comprehensive monitoring and protection for broad-spectrum wireless devices. These wireless devices include IoT, Industrial Internet of Things (IIOT), Internet of Medical Things (IOMT), and OT environments.  And, AirShield's capabilities are irrespective of operating system, protocol, or connection type.
View Brochures:   IOT WIRELESS ATTACK SURFACE     AIRSHIELD DATA SHEET
View Case Study: AIRSHIELD WIRELESS CAMERA DETECTION
REQUEST MORE INFO
AirShield Benefits
Visibility: Discover all broad-spectrum wireless IoT devices within your environment.
Protection: Automatically identify unmanaged, unsecured and misconfigured IoT and OT devices.
Non-Intrusive: Passive monitoring of airwaves for enforcement of Zero Trust policies.
Easy to Deploy: No Ethernet required. Integrated cellular backhaul for real-time access to cloud wireless threat analytics.
Scalable: AirShield can be deployed to a limited area or a large facility simply by adding sensors. All sensor data is accessible under one dashboard.
Cost Effective: AirShield is leased service. There's no expensive hardware to purchase or maintain.
Comprehensive visibility into the IoT and OT (Operational Technology) threat landscape in order to detect, assess and prevent risk from unmanaged, unsecured and misconfigured IoT devices.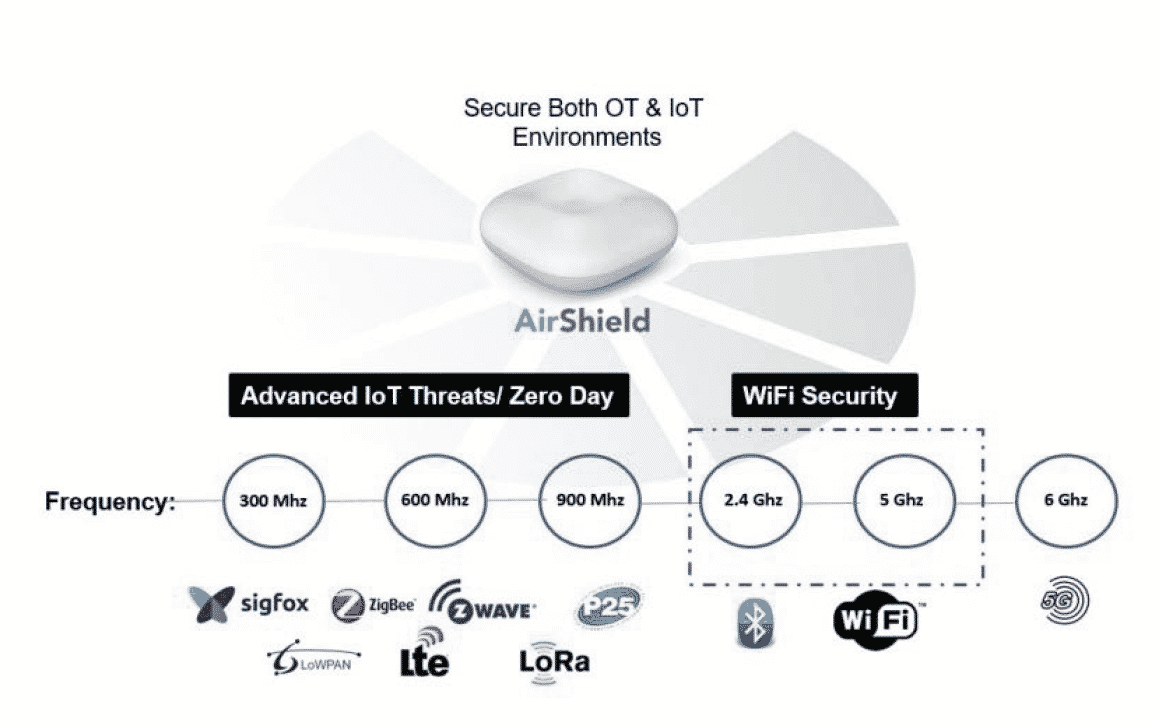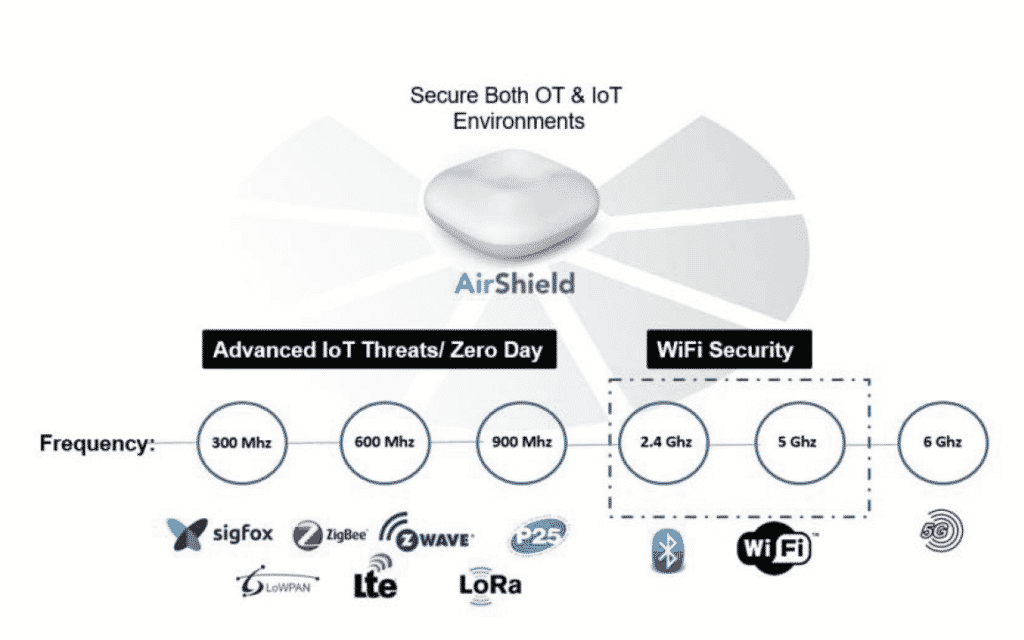 AirShield Detects the Following Types of Wireless Devices & More

AirShield  sees every radio frequency (RF) emitting device (range 300 Mhz to 6 GHz) that connects via Wi-Fi, Bluetooth or other broad-spectrum IoT protocols, whether it is on or off their production network.
Features of AirShield Wireless Intrusion Detection System



Cloud-Enabled

AirShield sensors connect to the Machine Vision Cloud. No on-premise server installation is required. You will receive real-time and actionable results in minutes. And, AirShield easily integrates with your daily SIEM/SOARs operations.
Identify unacceptable wireless IoT vulnerabilities on managed and unmanaged IoT devices. Close the incident response loop with AirShield's Threat Hunting Incident Tracker app.
Customizable Software-Defined Radio
Software-Defined Radio monitors the new WiFi 6 and 5G spectrum (300 Mhz to 6 GHz) to detect new and advanced wireless IoT threats.
Critical Path to Exposure™ Reporting
Raise awareness on the growing IoT security risks. Leverage the industry's leading IoT wireless security benchmark to measure how well you're doing.
Mobile Threat Hunting Application
As part of AirShield's solution, a mobile threat hunting application is provided to locate and remove offending wireless IoT devices on premise.
REQUEST MORE INFO
Wireless Machine Vision Platform
Benefits:
Software-defined radio enables support for existing and future 5G cellular, Citizens Broadband Radio Service (CBRS), and radio frequencies specific to OT and IoT (e.g., 802.11, Bluetooth, Bluetooth Low Energy, Zigbee, LoRa, etc.)
Complete asset inventory and classification provides real-time view of every device, its performance, and overall security posture
Enables zero trust access control through behavioral analysis, anomaly detection, threat ranking, air isolation, and policy management
Policy-based threat monitoring, detection, and remediation to support regulatory compliance
Integration with enterprise access control, Security Information and Event Management (SIEM), Security Orchestration, Automation and Response (SOAR), and IT Service Management (ITSM) platforms to help security teams respond quickly.
View Brochure: MACHINE VISION PLATFORM
ComSec LLC Advantage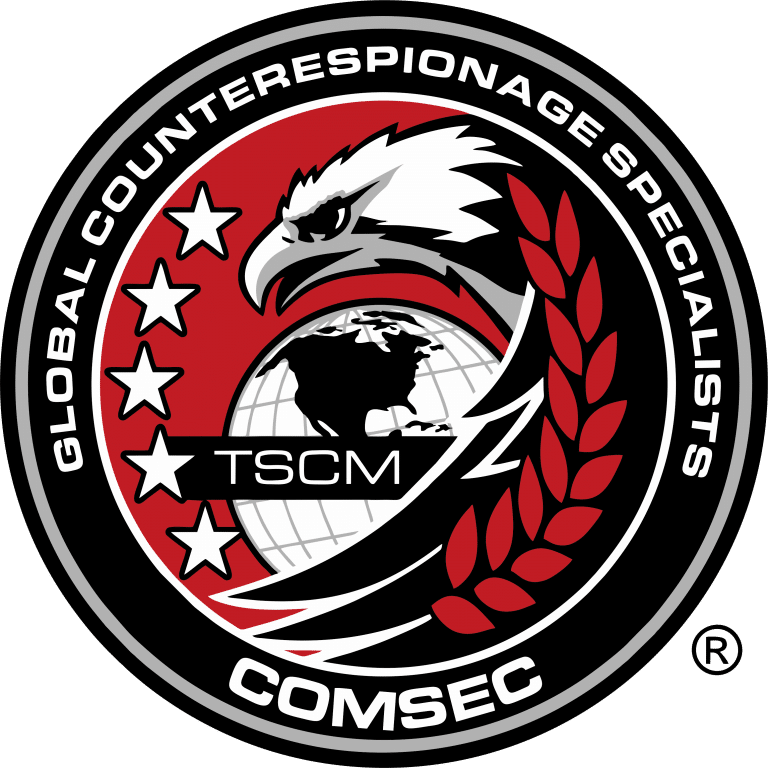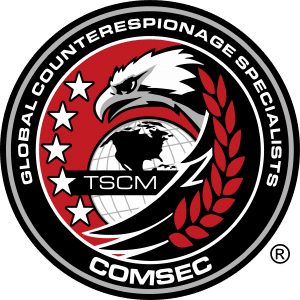 ComSec LLC is a leading provider of TSCM / Cyber TSCM services, counter surveillance products and training. We offer the AirShield system to our clients for on-going monitoring of WiFi, Bluetooth and Cellular BTS threats. The AirShield system detects changes in your environment. And, it is particularly helpful following a full scope ComSec LLC TSCM / Cyber TSCM service.
The implementation process is simple. First, we provide recommendations on the number and placement of sensors for optimal detection based on your floor plan. Second, we offer a 30-day free trial so you can evaluate AirShield's performance in your environment. Third, following the 30-day trial, decide if a 1-year or 3-year term best fits your needs. And, you can either have ComSec LLC's TSCM / Cyber TSCM techs monitor the AirShield system for you, or your IT Team can monitor the system. When threats are detected by AirShield, ComSec LLC's TSCM / Cyber TSCM services can locate the threats and we can recommend countermeasures to improve your technical security.
REQUEST MORE INFO
Industry Specific Applications