Corporate TSCM Services
Need Business Bug Sweep Services? Call ComSec LLC at 800-615-0392 !
ComSec LLC's corporate TSCM services clients include Fortune 500 corporations to small businesses. As well, we serve businesses from a variety of industries. Among the sectors we serve, are government, defense, critical infrastructure, legal, technology, news media and non-profits. Do you suspect electronic eavesdropping? Does your risk management plan requires TSCM security sweeps? ComSec LLC's corporate TSCM services are a wise choice. Moving to a new facility? Have there been changes in management, ownership or IT personnel? Our business TSCM services provide a comprehensive solution to reduce your risk of exposure.
We offer corporate TSCM services for 200,000+ sq. ft. facilities to C-Suite office wings. More importantly, TSCM service packages are customized based on service area size, and the scope of services. As well, we also offer all inclusive business TSCM service options (see below). Generally, we can be on site within 24 to 48 hours after receipt of your Service Agreement.
So, contact ComSec via our secure contact form or call us today at  1-800-615-0392 for a quote for services!
REQUEST QUOTE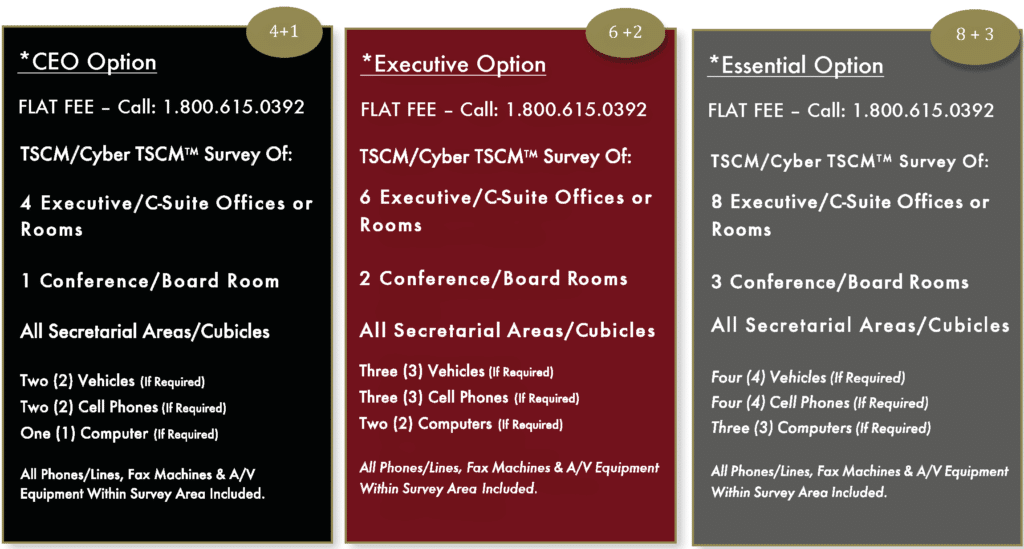 Choose Overt Or Covert TSCM Services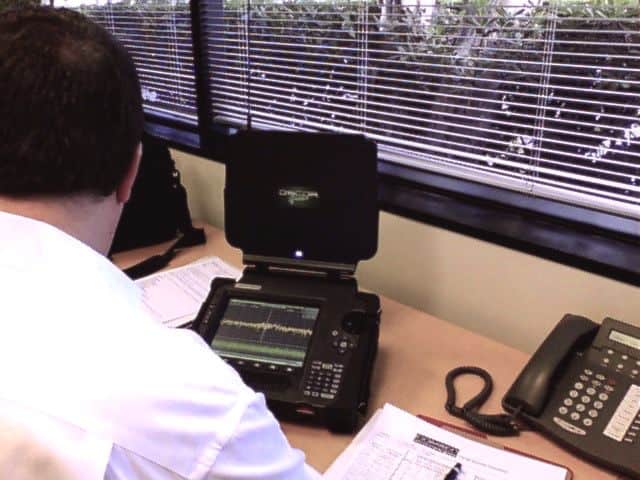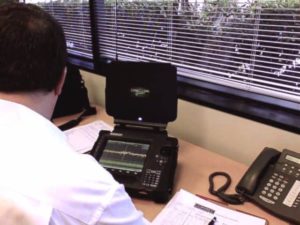 ComSec performs business TSCM services covertly or overtly. It's your choice!
Overt TSCM Services: We arrive per your instructions. Then, we make contact with the designated POC. Our TSCM equipment and methods can be seen. As well, we follow your instructions on handling questions about our purpose or activity. And, we can provide these corporate TSCM services during working hours, after hours or on the weekends.
Covert TSCM Services: All components and protocols used are concealed. Covert corporate TSCM services can be disguised as a LAN / Wi-Fi audit or cellular RF mapping session. And, we assess your exposures during normal working hours which can be very beneficial if you suspect an insider threat. If strict confidentiality is maintained by your company, covert business TSCM services can be a valuable tool to assess your exposures in real time.
What Types of Bugging Devices Do We Detect?
Our TSCM specialists detect the following types of electronic eavesdropping devices:
Elicit audio or optical bugging devices
GSM, 3g & 4g cellular eavesdropping devices
Wireless bugs
Wire & mic taps and telephone taps
Carrier current bugs
Micro wireless video devices.
Laser or infrared eavesdropping devices.
GPS trackers on vehicles.
Cell phone spyware / malware
In other words, we detect very simple to very complex bugging devices. We're equipped and skilled at detecting a full range of bugging devices from the  inexpensive, low tech bugs to the very modern, complex bugging devices.
REQUEST QUOTE
Additional Corporate TSCM Services
ComSec LLC also provides the following services to our corporate clients:
Assurance Option: Proactive, contracted bug sweep services that time or event driven.
In Conference Monitoring: Covert monitoring of board meetings, high level meetings, conferences, events, etc.
The Umbrella Option: An elite Cyber TSCM program for business owners, C-Suite executives & high-profile individuals.
Please follow and like us:
Learn More About Our TSCM Services & Equipment