Bug Sweep| Professional Bug Sweeping Service
Concerned Your Valuable Information is Under Attack? Call ComSec LLC at 1-800-615-0392 !
The Facts
Each year, Americans spend hundreds of millions of dollars on bugging devices. And, devices NOT intended for spying are also used for electronic eavesdropping (e.g. cellphones, Airpods, Air Tags, etc.) Now, bugging devices are smaller, less expensive and easier to use than ever. As well, cyber eavesdropping devices and hybrid spying devices also make spying less risky for the spy. By using a network (e.g. wi-fi, bluetooth, cellular), the eavesdropper can get information from bugging devices by email, text message, in real time, etc. And, they don't have to re enter the target's space to get the info. Most unfortunately, a target that lacks technical savvy is more vulnerable than ever. ComSec LLC's professional bug sweep help to regain control of privacy and restore peace of mind.
Why Choose ComSec LLC Bug Sweeps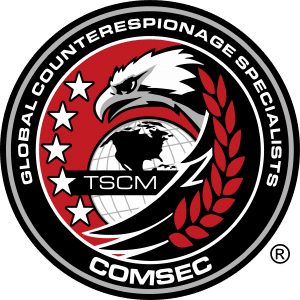 First, our bug sweep specialists are skilled and experienced. Second, they use the most advanced bugging device detection equipment available. Third, services include Cyber TSCM threats. Fourth, we constantly study the changes in spying devices and technologies. Fifith, we use proprietary processes and methodologies that give our clients a technological advantage.  Ultimately, these key service attributes result in a service level that made us a leader in the industry.
Contact ComSec by email or call us today 1-800-615-0392 !
Included With Our Bug Sweep Services
Technical threat assessment.
Physical exam and the TSCM / Cyber TSCM survey.
Detecting and locating bugging devices.
Giving you any accessible information from the recovered bugging device(s).
Identifying your eavesdropping vulnerabilities.
A verbal debrief on site the day of the survey.
An electronic service report.
Information and/or guides to help protect privacy going forward.
Our Clients
Government, corporations, non-profits, executives and high net worth individuals trust our services. As well, you can read our client testimonials.
REQUEST QUOTE