Kestrel TSCM Professional Software | RF Spectrum Analysis Software
ComSec LLC: Exclusive USA Sales & Distribution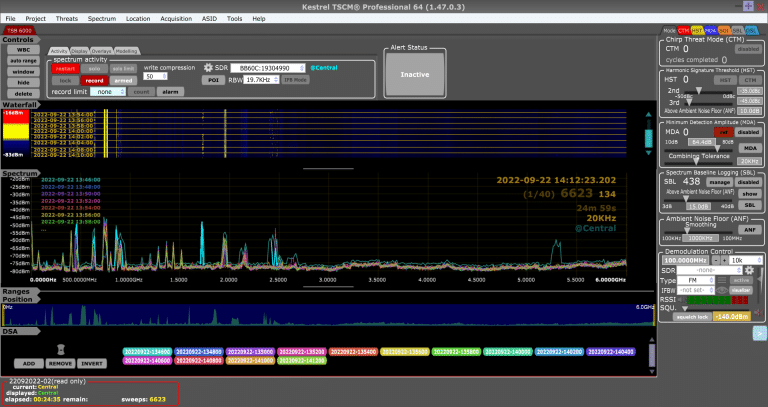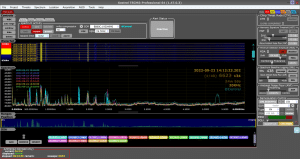 Kestrel TSCM Professional Software is a powerful and flexible operator centric RF spectrum analysis software application designed for advanced radio frequency spectrum monitoring. The Kestrel TSCM Professional Software leverages the most advanced RF sensor based Software Defined Radio (SDR) hardware technology. And, it provides functionality far beyond that found in typical commercial spectrum analyzers, including the ability to provide unintentional radiator (TEMPEST) detection, identification and evaluation of emissions.
Kestrel TSCM Professional Software is an award winning, highly deployable, mission scalable, travel friendly, full featured RF spectrum analysis software. It delivers advanced RF spectrum surveillance, monitoring, collection and analysis functionality.
Watch the Kestrel TSCM Professional Software to Learn More:
Applications
Kestrel TSCM Professional Software is ideal for technical surveillance countermeasures (TSCM), intelligence, counter terrorism and managed Remote Spectrum Surveillance and Monitoring (RSSM). This leading TSCM software also has  applications in the law enforcement community, government, military, space, and spectrum regulatory agencies. Kestrel TSCM Professional Software also provides unique features and functionality for private sector and corporate security teams conducting TSCM, counter espionage related technical security operations.
Learn more about the features of the Kestrel TSCM Professional Software. 
Learn more about USA Kestrel TSCM Remote Virtual Classroom Training.
USA Sales & USA Distribution:
Core Technology
Unrivaled features and functionality for defensive spectrum monitoring and technical surveillance activities.
Compatibility with industry standard computer technology enables new computer technologies to be exploited as they become available.
Compatible with a wide range of third-party commercially available SDR hardware platforms and spectrum analyzers to accommodate diverse budgets and application requirements.
Kestrel TSCM Professional Software is designed to operate over frequency ranges from near DC to 300 GHz to support tomorrows SDR radio technology.
Supports real-time and post analytical spectrum analysis.
Kestrel utilizes the fastest FFT algorithm that is currently available to ensure the widest possible processing bandwidth up to 165 MHz of real-time IF bandwidth.
The included IQ Recorder supports the capture of IQ data including KIQ, CSV, and WAV formats.
Additional IQ playback is supported for, XML IQ, DGZ and DGZM formats.
The standard included IQ Recorder supports Time Reference Sub-Sampling (TRSS) technology providing the ability to resample IQ files for optimized focus of the signal of interest.
Supports modular and scalable system architectures needed for demanding commercial, law-enforcement, government, military, space, and national security applications.
A single system can be configured to support multiple receivers, and these can be of different types, deployed across multiple spectrum bands with spectrum and demodulation hand-off capability.
The visualization of RF propagation has been the dream of many TSCM professionals and is now a reality with the ability to visual RF propagation by means of a real-time wideband capture process that produces a geo-location heat map with our dimensional RF propagation modeling and RF Visualizer (RFV)  technology.
Kestrel TSCM Professional Software is available to Technical Security (TSEC) professionals worldwide.
No Kestrel feature is ever considered complete and each component of the software is subject to modernization and on-going feature improvement.
Powerful artificial intelligence-based spectrum learning mode for enhanced focus of hostile signal event detection.
Hardware support for powerline analytics and geo-location heat mapping, utilizing the 3D Energy Probe (3DEP-10).
Automatic software update tool keeps the software running at peak efficiency with the latest software features.
Operator Deployment Log (ODL) supports multiple operator date and time stamped deployment log entries.
The Inspection Summary Checklist (ISC) supports customized deployment checklists and supports auto entry at the ODL level.
Next Generation Advanced Activity Event Scheduler (AAES) support for complex multiple radio, multiple spectrum band applications.
Delivers exceptional value, without the need to compromise on features and functionality.
Supports a wide range and level of professional receivers and spectrum analyzers. (See full list below.)
Features an intuitive, user-friendly operator centric user interface.
Supports a variety of global and independent preferences to improve operator situational awareness.
Capability to import floor plan, vertical riser plot, geographical area map or photo realistic virtual realistic images.
Provides "on the fly" multiple receiver "hand off" of the spectrum and demodulated signal events to all other supported and connected SDR search receivers and spectrum analyzers.
Graphical DSA model permits the import of floor plans, vertical riser, geographical maps, 3D rendering and photographs of the target area for comparative analysis of all collected data.
Comprehensive standards based report management resource that allows all aspects of the mission or assignment to be combined into a signal automatically structured and professionally formatted document.
See the Kestrel TSCM Professional Software brochure for additional information.
USA Sales & USA Distribution:
New Licensing Model
The latest release of the Kestrel TSCM Professional Software standard license now includes a fully integrated set of core features including: Automatic Export Control (AEC), Command Line Programming (CLP) and Tap Capture Plot (TCP). This new licensing model provides greater interoperability, scalability, and transitional work-flow across all deployment requirements.
Automatic Export Control (AEC)
Time-Periodic and Triggered CSV Signal List Export, Triggered IQ Capture and Export (with custom parameters), Spectra Export, RSSI Export, Custom Operator Defined CSV Table Elements.
Command Line Programming (CLP)
Custom Audio Alerts, Email and SMS Network Alerts, Triggered Event Screen Capture, and Executable Third-Party Application Support for external hardware and software.
Tap Capture Plot (TCP)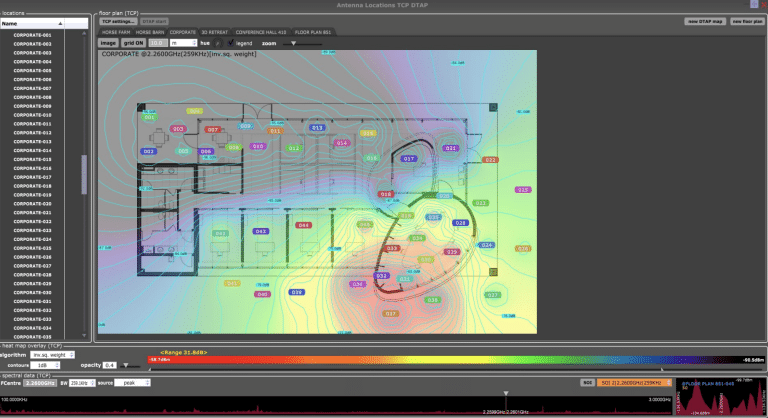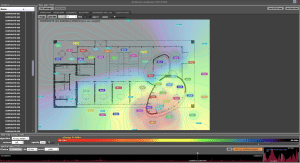 Algorithmic support for advanced radio-frequency, powerline, and optical (photonic), Dimensional Geo-Location Heat Mapping for Intentional, unintentional, and TEMPEST evaluations, based on our Total Energy Capture (TEC) technology.
About the Kestrel TSCM Professional Software License
A single full software license is permanent across two (2) computers with up to two (2) SDRs for hand off operation.
There are no annual maintenance, or upgrade fees within the same software generation.
Supports Dual Receiver Operation (DRO) at the time of purchase, or as deployment needs and requirements change.
Updates, bug fixes, new features and enhanced functionality are always provided free of charge within the same generation of the software.
Additional ASKs and optional software modules (OPT AMCS and OPT DTAP-GPS) require an upgrade fee.
If customers choose to upgrade to a new generational software release, an upgrade fee will apply. However, upgrading is a choice as the prior generation of the software will remain supported.
Software updates are provided for air gapped and non air gaps systems.
Benefits of the New Licensing Model
Direct interoperability enhancements realized with the new Kestrel TSCM Professional Software licensing model include:
Meets Criteria of a Modern Standards-based Approach
Stronger Interoperability with Existing Features
Essential Triggered IQ Capture Capability
Advanced Network Alerting (Email | SMS)
Third-Party Application Level C2 Support
Automatic (Periodic and Triggered) CSV Signal List Exports
Spectra and RSSI Exports
Custom CSV Export File Output Rendering
Advanced TCP Dimensional Geo-location Heat Mapping
Unintentional Radiator (TEMPEST) Evaluation and Localization
Optional Modules
Kestrel TSCM Professional Software Optional Modules enhance its capabilities and functionality. Optional modules include OPT AMCS (Automatic Measurement and Collection System) and OPT DTAP-GPS (Dynamic Trace Autonomous Platform GPS).
OPT AMCS (Automatic Measurement and Collection System) provides remote TCP-IP capability with our powerful Software Development Kit (SDK) for custom client-side monitoring solutions.
OPT DTAP-GPS (Dynamic Trace Autonomous Platform GPS) supports the mobile deployable of our autonomous, GPS enabled, wide-area Dimensional Geo-Location Heat Mapping resource.
USA Sales & Distribution, Call ComSec LLC at 800-615-0392 or
ComSec LLC also provides mobile, field ready kits with the Kestrel TSCM Professional Software. Learn more about ComSec's Kestrel Scout RF Locator Kits.
Need Kestrel TSCM Professional Software training? Learn more about Kestrel Remote Virtual Classroom Training.
Features
User Interface (UI)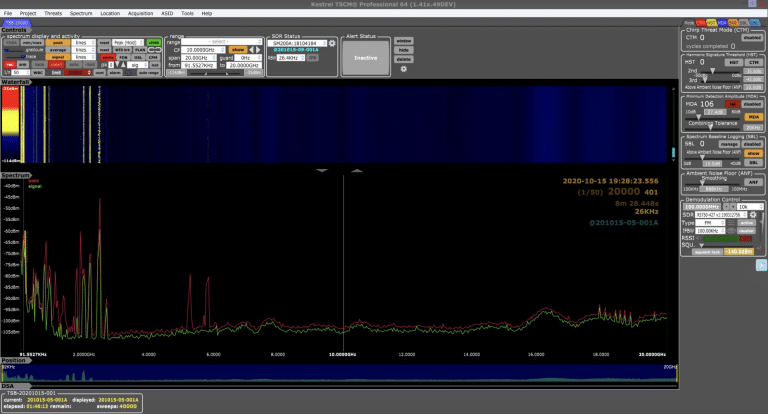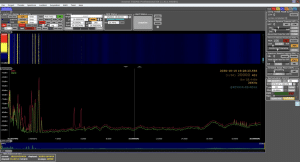 The operator centric, workflow based, User Interface (UI) enables unprecedented operational effectiveness by grouping and dynamically linking essential control elements and control groups up-front, making them easily accessible and intuitive to the operator.
All essential technical operator control groups are visible on the user-interface or directly accessible from the menu bar or the sidebar control group.
The Kestrel UI provides ease of use not found on competitive TSCM products or test and measurement equipment designed for engineering applications in a controlled laboratory environment.
The system utilizes predictive logic and intelligent automation to minimize operational deployment complexity, thereby maximizing key performance metrics, such as the Probability of Detection (POD) and Probability of Intercept (POI) metrics.
Kestrel TSCM Professional Software's advanced dynamic control linking, sophisticated artificial intelligence and predictive logic, provide recommended system settings that offer excellent performance in even the most demanding spectrum environments, while giving experienced operators the ability to optimize system settings for their target application manually.
Recent user-interface updates advance generational technology to include ultra-fast spectrum modeling of exceedence and burst detection resources with a measure of artificial intelligence.
RF Spectrum Display (RSD)
The RF Spectrum Display (RSD) is an important tool for visualizing and interpreting signals. Basic forms of the traditional power versus frequency spectral display are useful for many engineering applications, but a more sophisticated display is needed to make sense of the complex RF spectrum found in many real-world scenarios.
Frequency hopping and other short duration transmissions often used by modern communications technologies pose special problems. The spectrum display benefits from extensive practical experience and provides an array of useful features and functionalities specific to the TSCM role.
The user can select options for spectral processing parameters, such as the choice of windowing function at the hardware and software level.
A wide variety of visual trace options are available to the technical operator, including a Real-Time Event (RTE) trace, a Peak Envelope Capture (PEC) trace and a Spectral Average (SAT) trace, are all available to enhance the Probability of Technical (POD) and minimize unwanted RF display clutter.  The user can display or hide the RF Spectrum Display (RSD) as desired without interrupting, or otherwise affecting the data processing and collection.
Waterfall Display (WFD)
The waterfall display (WFD) is particularly useful for detecting and examining short duration signals including Frequency Hopping Spread Spectrum (FHSS) and other burst signals. Using the real-time spectrum analysis mode, even the shortest duration signals can be reliably detected and their timing relationships examined.
The waterfall and spectra are recorded in real-time and provides the ability to immediately review signal events using our Live View Analysis (LVA) feature without interrupting the processing and collection functionality. All RF spectrum and waterfall data is captured and stored on the host computer, enabling the user to employ Live View Analysis (LVA) functionality for subsequent analysis.
The user has full and unrestricted control of the data collection process and can define multiple activity schedules to include deployment of the Delay Start Mode (DSM) or the ability to collect spectral data for a specified period of time, allowing for multiple start and stop events to occur at the band or receiver level.
The default continuous mode permits the technical operator to continuously collect waterfall spectral data until the software is manually stopped by the operator. This capability allows the technical operator to playback specific spectral time events during runtime collection and for post-analysis.
Independent waterfall reference level scaling, another powerful tool, permits the technical operator to display the RSD and WFD at different reference level power settings, thereby enabling the color representation of the WFD to be optimized for signals of interest under review.
The user can display or hide the Waterfall Display (WFD) as desired without interrupting, or otherwise affecting the data processing and collection.
Live View Analysis (LVA)
The LVA feature provides a means for real-time operator analysis and review of continuous and intermittent signal events by navigating to any signal event during runtime.
Our LVA technology makes it possible to navigate to any historical spectra or waterfall event without the need to interrupt the data collection process, which continues to run in the background. The operator can move forward and backward on a trace by trace basis for absolute precision analytical analytics.
Additional tools allow the operator to locate the strongest occurrence of the SOI and our seamless Positional Zoom Control (PZC) and trace display options bring clarity and focus to the characterization of any historically recorded signal event during live collection or post analytical review.
This powerful analytical feature operates across all of the primary software features at the navigation level.
Kestrel Reference Traces (KRT)
The ability to immediately capture, display and export any number of Kestrel Reference Traces (KRT) on the current spectrum display is fully supported. KRT files can also be imported from an operator maintained local KRT database to display progressive captures as a reference overlay. Technical operators are encouraged to capture and contribute working KRT files to the Global Spectrum Analysis Database (GSAD) maintained within the Technical Support Group (TSG) Resource Centre website.
Positional Zoom Control (PZC)
Using settings easily accessed from the Positional Zoom Control (PZC) window, the operator can easily navigate to and zoom in on a signal of interest.  A right mouse click allows the operator select from a list of predictive logic zoom control options, based on the current CF displayed on the spectrum interface.
Kestrel Drag and Drop Technology (DDT)  focuses the SOI at its center frequency with an automatic 20x zoom factor. A 100x double click zoom is also available to further focus attention on the SOI and a 200x zoom factor is accomplished utilizing the mouse wheel.
Our on-the-fly drag and drop capability, supports demodulation processing by selecting the SOI center frequency and selecting the demodulation menu option. The Kestrel spectrum control group supports the ability to set the CF, SPAN, START and STOP frequencies manually.
The ability of the Differential Signal Analysis (DSA) feature to display any multiple location based, peak trace and highlight differences is enhanced by the Positional Zoom Control (PZC) functionality. One can easily switch between viewing entire ROI or a specific SOI with a 200x zoom factor. This functionality enables even minor noise-floor amplitude differences to be readily discerned.
Kestrel TSCM Professional Software's navigation control options are highly evolved and consider every possible scenario providing many navigation options at the application level.
More Features
Floor Plan Import | LDSA | RDSA | TCP | DTAP
One of the powerful standard features of the the Kestrel TSCM Professional Software is the ability to import any type of floor plan, riser plot, geo-graphical map, 3D rendering, image or picture.
The floor plan import graphically interfaces with every location-based feature.
The same resource provides a unique Location Differential Signal Analysis (LDSA) overlay and advanced geo-location heat mapping for the Tap Capture Plot (TCP) and Dynamic Trace Autonomous Platform (DTAP-GPS).
Exceed Detect Model (EDM)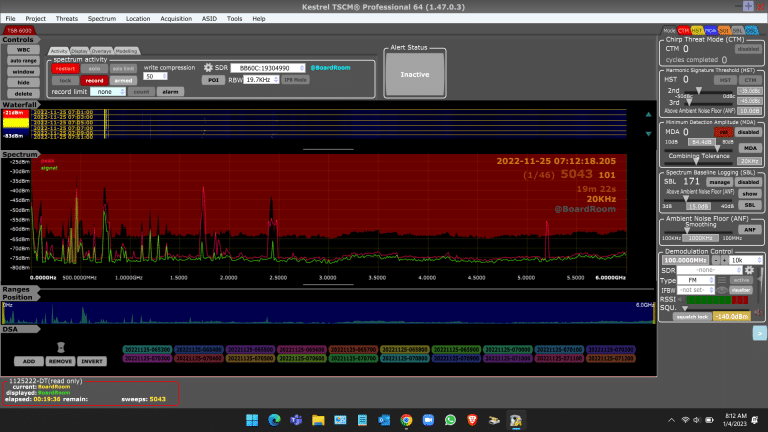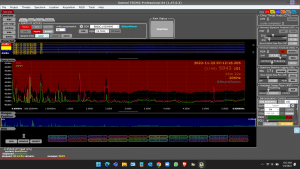 Exceedence only signal detection found in the vast majority of so-called TSCM products, no longer meets any acceptable level of due-diligence within a modern moving target threat model. In-fact, exceedence only detection can only detect 40 to 60 percent of the signals presented across a wideband range of interest.
The Kestrel TSCM Professional Software utilizes enhanced techniques to overcome the limitations and our practice of implementing operator defined intelligent detection resources for the 1st and 2nd generation exceedence detection strategies.
The 3rd generational achievement includes an advanced Exceed Detect Model (EDM) and Burst Detect Model (BDM) that includes an advanced spectrum training mode that autonomously responds and updates the detection model based on the unique ambient radio-frequency spectrum over time.
The Kestrel TSCM Pro Software powerful combination of exceedence and burst detection parameters can be operator defined to work in tandem or independently to achieve results that are unique to the mission. The initial trained range is operator defined, relative to all available runtime traces, defined by the Kestrel Super Trace (KRT) count. This allows the software to build and algorithmically maintain a complex autonomous threat detection strategy.
Burst Detect Model (BDM)
The KLM feature supports an ultra-fast channelized burst detection capability that supports an integrated and operator defined capability within the Kestrel Learning Mode (KLM) feature.
The Burst Detect Model (BDM) can be fully integrated with the Exceed Detect Model (EDM) to capture signals that exceedance only models simply cannot capture, or the feature can be operated totally independently, as can the exceedance model.
The BDM is the missing link between exceedance and failure to detect modern communication signal events that simple cannot be detected within an exceedance only architecture. The ability to capture channelized burst events that are low to the noise floor are now visualized, captured, filtered and analyzed by a powerful algorithmic response.
Advanced Report Generator (ARG)
The ARG is a powerful standards-based Report Management System (RMS) that is expertly integrated into every aspect of the Kestrel TSCM Professional Software application allowing the technical operator to build custom proprietary reporting solutions with extreme versatility.
The ARG resource provides total control over the reporting process across the entire assignment as a template-based master report builder.
The document tree structure, intuitive drag and drop technology, automatically generator formatting tools, allow the technical operator to custom define sectional information and include cover page, logo, data tables, images, pictures, spectra plots, text, sections, headings and sub-headings, automatic page numbering, across any conceivable report design and format required.
Session Report Generator (SRG)
The SRG is fully integrated and allows for real-time, on-the-fly ad-hoc report generation in the standard Portable Document File (PDF) format.
The SRG allows the operator to capture plots of the RF Spectral Display (RSD) and Waterfall Display (WFD) data, for inclusion within the report. This resource provides the means to export a comprehensive RF based report that can be utilized as an attachment to a end-user report.
The Kestrel Project File (KPF), is an integral component of the overall project file management structure. It is also possible to export any of the threat or signal lists as a (.CSV) file format for editing, or analysis in third party productivity software.