WAM-X25 | Wireless Activity Monitor | JJN Digital
The WAM-X25 Wireless Activity Monitor is a compact tablet-style multi-band Radio Frequency (RF) signal detector for handheld or desktop use. The WAM-X25 detects all types of RF devices including:
Mobile phones
Smartphones
GPS trackers, SMS (Texts)
GSM bugs, 3G / 4G / 5G video
Bluetooth & Wi-Fi devices
Store & Forward devices
And, the WAM-X25 features a Wi-Fi Network / Bluetooth analyzer and Direction Find Function. The JJN WAM-X25 Wireless Activity Monitor is ideal for professional Technical Surveillance Counter Measure (TSCM) applications.
View the Wireless Activity Monitor WAM-X25 Brochure.
ComSec LLC is the North American Distributor of the WAM-X25 Wireless Activity Monitor.
REQUEST QUOTE
WAM-X25 Wireless Activity Monitor Features
Wideband Detection
The WAM-X25 features a 0-14 GHz wideband detector that provides the highest range of coverage of all RF activity in the target area. The frequency of the detected signal (up to 6 GHz) can be seen simultaneously. And, the WAM-X25 'Livescan' software shows the detected live signal pattern graphically to help identify the signal type. This can be particularly useful when searching for pulsing or burst devices such as GPS trackers.
Worldwide Cellular Band Detection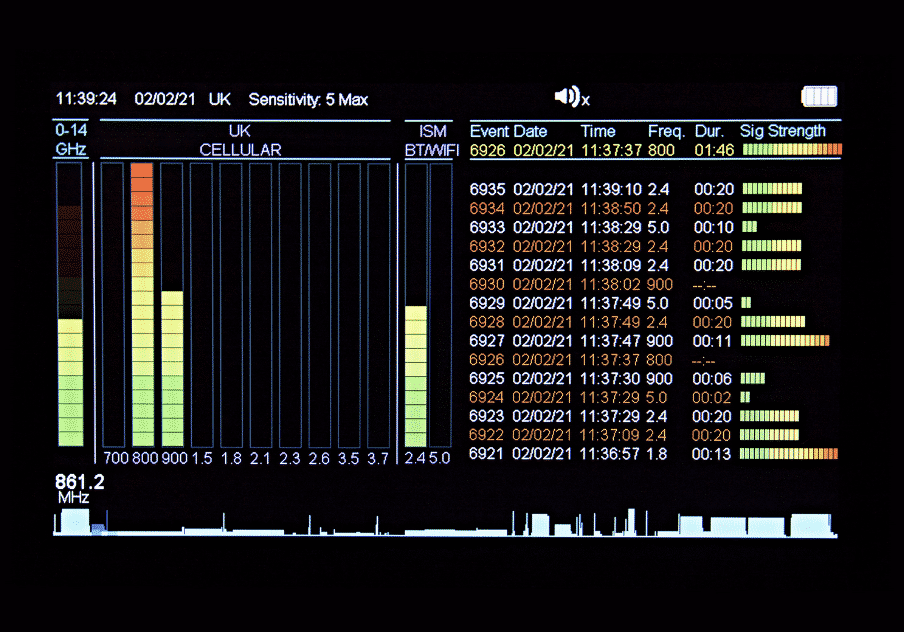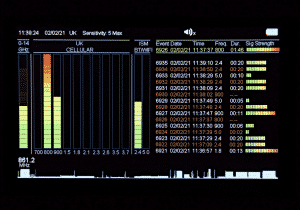 The WAM-X5 has separate Worldwide multi-band Cellular coverage. Simply select the international region the device is being used in and the WAM-X25 will detect signals from all the relevant local cellular bands. This means the WAM-X25 is ready for the rollout of the latest 5G devices, worldwide. Of course, all existing 2G, 3G and 4G bands will also be covered. It can be used in any environment where cellular devices are forbidden such as sensitive meeting rooms to check for hidden devices, unauthorized mobile phone usage in offices, exam halls, hospitals, or prisons and in vehicles to locate the latest Vehicle/Asset tracking devices. All cellular activity is logged and can be reviewed at any time, graphically or in list format.
2.4 GHz & 5GHz Wi-Fi Detection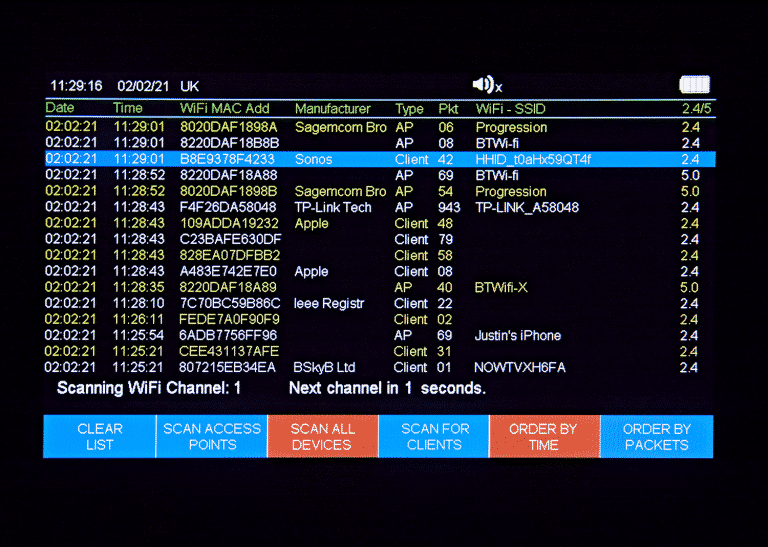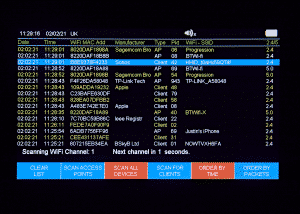 The WAM-X25 has separate 2.4 GHz & 5 GHz bands for detecting the rapidly growing threat from Wi-Fi / Bluetooth / Video and other latest generation 'Store & Forward' devices. Such devices can for example, record audio over long periods and then transmit it in short regular bursts. It will also detect other devices that use these bands such as covert wireless video transmitters.
Wi-Fi Network Analyzer
The WAM-X25 features a new independent Wi-Fi Network (2.4 & 5GHz) Analyzer to provide detailed activity information about WLAN networks in the surrounding area such as Hotspots, Routers, Wi-Fi cameras etc.  The device will scan through detected Wi-Fi Access Points / Clients and compile a detailed list of information: Date & Time of Event, Wi-Fi MAC Address, Manufacturer (If available), Type (Access point or Client), Number of Data Packets detected, Wi-Fi SSID (If available) and band (2.4 or 5 GHz).
Bluetooth Device Analyzer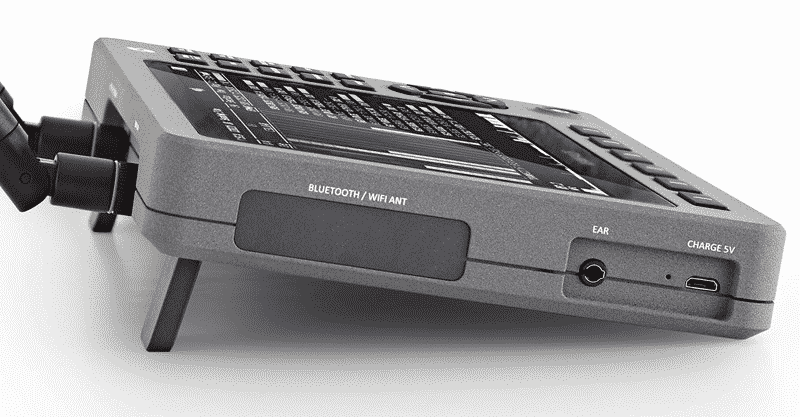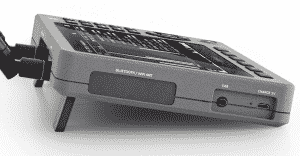 The JJN WAM-X25 also features a built-in Bluetooth analyzer to list nearby active Bluetooth devices such as Smartphones, Tablets, headphones, fitness trackers etc. Information gathered includes: Date & Time of Event, Bluetooth MAC Address, Manufacturer (If available), Signal Strength in dBm and number of Data Packets detected.
Direction Find Function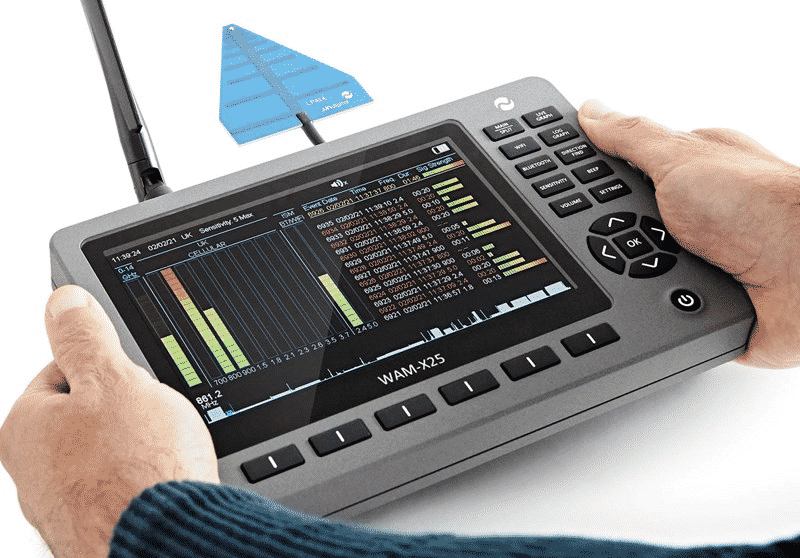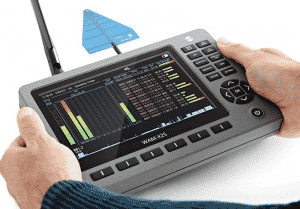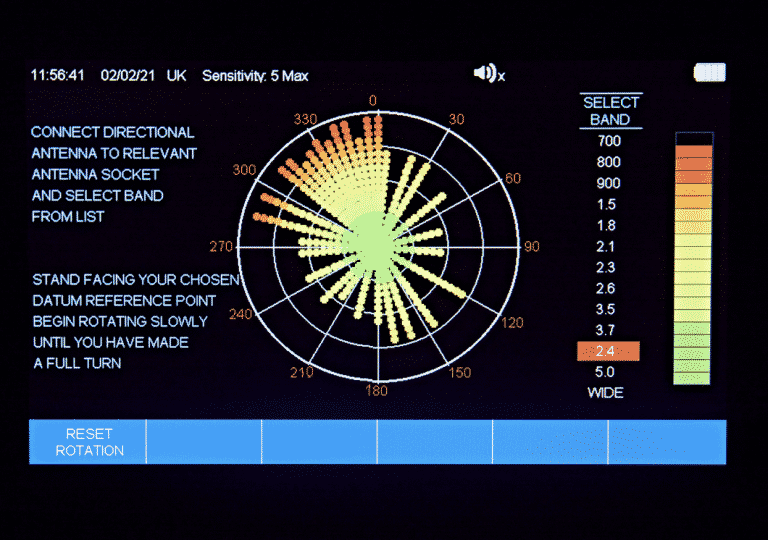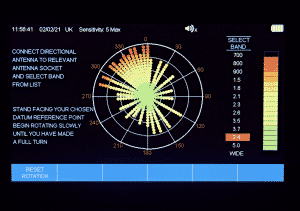 The direction find mode enables the user to locate the source of a detected RF signal by rotating the WAM-X25 through 360 degrees using the supplied directional antenna. By slowly rotating the unit, signal strength information is gathered and plotted graphically over 360 degrees to give the user an accurate indication of the detected signal source.
Design Features
Key Pad Design
WAM-X25 operation is simple and intuitive. All information is displayed on a high resolution color 7-inch TFT screen that allows the user to simultaneously perform real time detection and to view events that have previously occurred. Each band has an individual 20 element signal strength meter enabling the precise source of a detected signal to be located with ease. An audible 'Beep' mode allows the user to monitor without looking at the display. The WAM-X25 silent Vibrate mode can also be used for particularly sensitive areas.
USB Storage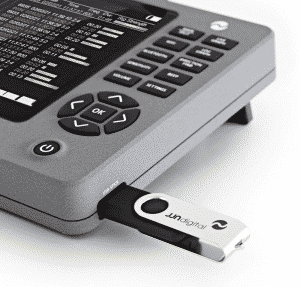 Up to 10,000 events can be stored within the JJN WAM-X25 for viewing simultaneously as a list or graphically. For each detected signal (no matter how long or short) it will record the Time / Date, Duration, Band detected and Signal strength. This can be particularly useful in identifying the type of device that is being detected. For example, a string of regular short bursts in one particular band may represent those from a GSM/GPS Tracking device.  These could be clearly viewed in Graph Mode as lines of regular spacing representing the pulsing nature of the transmission.
Also looking at call activity at certain times of the day may help identify unauthorized phone use in sensitive areas such as prisons, company board rooms, exam halls, etc. The entire event log can also be downloaded to a USB stick for storage or transfer to a computer where it can be viewed and sorted for analysis or reporting.
WAM-X25 Product Information
Detects 2G / 3G /4G / 5G  devices – plus Wi-Fi / Bluetooth 2.4 GHz & 5 GHz devices

Detects Mobile Phones, Smartphones, GPS Trackers, SMS (Texts), GSM Bugs, 3G/4G/5G Video, Bluetooth & Wi-Fi Devices, Store & Forward devices

Worldwide Cellular Coverage – Simply select the relevant region of use

Separate Wideband RF Detector 0-14 GHz with Audio Demodulation

Separate 2.4 GHz & 5 GHz Wi-Fi Detector

Wi-Fi Network Analyzer provides data on nearby WLAN networks

Bluetooth Device Analyzer provides data on nearby Bluetooth devices

Direction Find Function for pin-pointing signal sources

Event Log records Time / Date, Band, Duration & Signal Strength of up to 10,000 Events

Log can be viewed on screen or saved to USB stick for storage/viewing on a computer

Graph Mode plots real time or historical graph of all detected cellular bands
Widescreen High Resolution 7-inch Color TFT Display
Adjustable Omnidirectional & Directional Antennas
Machined aluminum enclosure for maximum durability
REQUEST QUOTE
 Technical Performance Specifications at 68 Degrees F
Wideband Frequency Range: 10 MHz – 14000MHz (14.0 GHz)
Cellular Regions Covered: North America, UK, Europe, Asia, Africa, South America & Australia
Cellular Frequency Range: International bands – (300 MHz to 6 GHz) – Maximum 10 viewable bands – Sensitivity -70 dBm Max
2.4 & 5 GHz Frequency Range: 2400 to 2485 MHz & 5150 to 5850 MHz
Wi-Fi Analyzer: 802.11a/b/g/n: 2.4 GHz and 5 GHz
Display: TFT Color 7.0" High Contrast Graphic Display
Battery: Internal Lithium-Polymer rechargeable ; Operating duration – fully charged battery – up to 8 hours
Charging: Micro USB socket – Charge Time ~ 4 hours
Operating Temperature Range: 5 F to 155 Degrees F – Relative Humidity < 90%
Dimensions: 9 In. x 5.9 In. x 1.1 In.
Weight: Main Unit – 2.2 Lbs., Carry Case Complete – 6 Lbs.
Signal Processing and Control: RISC Based Microcontroller with real time clock
Event Log: Maximum 10000 Events
USB Socket: For USB Stick download only
Product Details
Your purchase of the WAM-X25 Wireless Activity Monitor includes: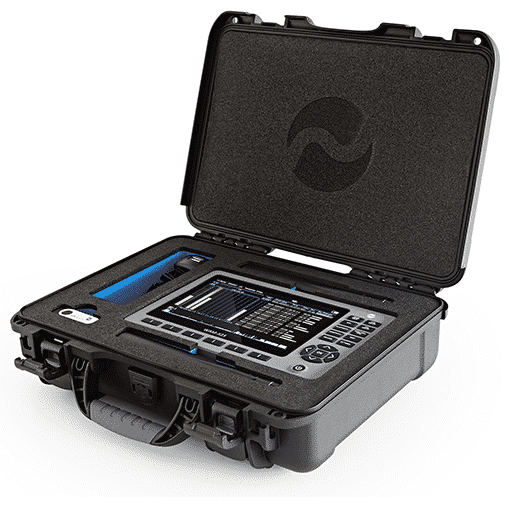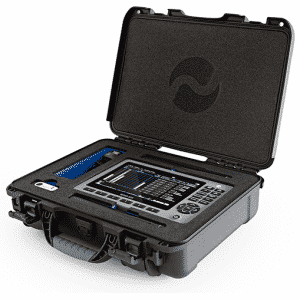 WAM-X25 – Main Unit
Adjustable hinged antenna x 2
Directional Antenna LPA-14-SMA (Blue)
5V Micro USB Charger-110V to 240V AC input (Auto Switching) with International Adaptors
Earphones
USB Memory Stick
High Protection Military Standard Carry Case
REQUEST QUOTE
JJN Digital products are manufactured in the UK using the highest quality, professional grade components and processes.
All assembled circuits are fully tested and calibrated before final assembly.
All units are then tested on completion and every product undergoes a final test before shipping to the USA.
The JJN Digital WAM-X25 Wireless Activity Monitor is warrantied to be free of manufacturing defects for twelve (12) months.