Kestrel TSCM Software – Exclusive USA Sales & Distribution
Kestrel TSCM Pro Software is an industry leading RF spectral analysis software. It leverages advanced software defined radio (SDR) concepts to deliver standalone RF remote spectrum surveillance, monitoring, collection and analysisfunctionality. Kestrel's work flow oriented features are tailored to professional technical surveillance countermeasures TSCM applications. Click here for Kestrel TSCM Pro Software pdf.
Kestrel TSCM Software supports a wide range and level of search receivers and spectrum analyzers. See below for a list of compatible spectrum analyzers.
Kestrel TSCM Pro software is a Canadian innovation. ComSec LLC is the exclusive distributor of Kestrel TSCM software in the USA. Kestrel TSCM Software purchased on ComSe'c web site is delivered electronically by ComSec LLC. As well, Kestrel TSCM software updates are also provided by ComSec LLC via our secure portal.
The Kestrel Surface RF Locator is a stand alone mobile system. The system includes a Backpack, Highly Customized – Ruggedized Microsoft Surface Book With Performance Base, Signal Hound BB60C SDR, KESTREL TSCM Pro Software, 24000 mAh Multi-Function PowerBank and Kestrel ® Log Periodic (KLP) TM Omni-Directional and Directional High Gain | Wideband Antenna Kit. The system is delivered fully operational.
Please follow and like us:
Kestrel TSCM Software Features
User Interface (UI):
Ergonometric user interface promotes operator situational awareness by grouping and dynamically linking essential control elements, in combination with intelligent automation.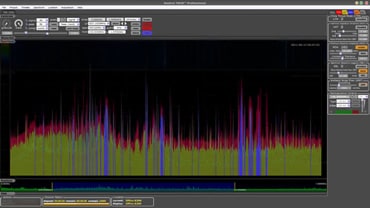 RF Spectrum Display (RSD):
Multiple tabbed spectrum windows permit any number of frequency Ranges of Interest (ROI) or band allocations to be searched in parallel.
Waterfall Display (WFD):
Waterfall Display (WFD) and trace recording capability enables the time history of signal events to be instantly reviewed.
Live View Analysis (LVA) TM:
Real-time analysis of continuous and periodic signal events is supported without the need to interrupt the data collection process.
Artificial Intelligence (AI):
Our Threat Detection Algorithm (TDA) and Signal Combining Technology (SCT) accurately detects and characterizes wide bandwidth signals.
Demodulation and Visualization:
Demodulate and record AM, FM and SSB audio. FFT displays include the RF Spectrum, Spectral Density, IQ Diagram, IQ Vs Time, RSSI History, Analog RSSI, Audio Oscilloscope and AF Spectrum.
Threat Detection
Algorithm (TDA):
Detection modes include: Minimum Detection Amplitude (MDA), Harmonic Signature Threshold (HST) and Chirp Threat Mode (CTM).
Differential Signal Analysis (DSA):
Our graphical DSA model permits the import of floor plans, vertical riser, geographical maps and photographs of the target area for comparative analysis of all collected data.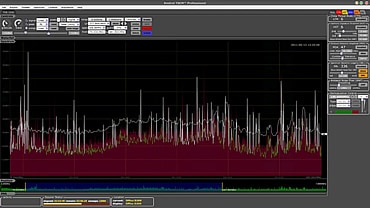 Spectrum Baseline Logging (SBL):
The technical operator can quickly capture a detailed baseline trace and reference signal list.
Session Report Generator (SRG):
Our integrated report generator and project management structure provide unprecedented sophistication in a TSCM application.
Kestrel TSCM Software – Well Positioned to Hunt in a Complex Signal Environment!