Kestrel TSCM Pro Software
Exclusive USA Sales & USA Distribution
Kestrel TSCM Pro Software is a powerful, full featured, professional Technical Surveillance Countermeasures (TSCM) and Signals Intelligence (SIGINT) software.  More specifically, Kestrel leverages advanced software defined radio (SDR) concepts to deliver standalone RF spectrum surveillance, monitoring, collection and analysis functionality. And, it is a highly deployable, mission scalable, travel friendly, full featured RF spectrum analysis software for professionals.
Learn more about the features of the Kestrel TSCM Pro Software. 
USA Sales & USA Distribution: REQUEST QUOTE
Kestrel Software is Operator Centric
With Kestrel Software, the technical operator is back in command of the analytical process. Accordingly, the software features an intuitive, user-friendly operator centric user interface. And, the technical operator can setup, navigate, view and analyze multiple instances of independent spectrum and waterfall data sets. As well, Kestrel supports a variety of global and independent preferences to improve operator situational awareness.
And, Kestrel TSCM Pro Software Optional Modules enhance its capabilities and functionality. Optional Kestrel TSCM Pro Software modules include: OPT AEC (Automatic Export Control), OPT CLP (Command Line Programming) , OPT AMCS (Automatic Measurement and Collection System) and OPT TCP (Tap Capture Plot). Learn more about OPT Modules.
Contact ComSec LLC ( Exclusive USA Sales & USA Distribution) — Request a Quote or Call Us at 800-615-0392.
Prefer a mobile, field ready kit with everything you need to run the Kestrel Software in the field? Learn more about ComSec LLC's KSRFL Kits.
USA Sales & Distribution: REQUEST QUOTE
Please follow and like us:
Kestrel TSCM Pro Software Features
User Interface (UI):
Ergonometric user interface promotes operator situational awareness by grouping and dynamically linking essential control elements, in combination with intelligent automation.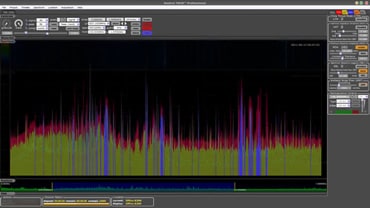 RF Spectrum Display (RSD):
Multiple tabbed spectrum windows permit any number of frequency Ranges of Interest (ROI) or band allocations to be searched in parallel.
Waterfall Display (WFD):
Waterfall Display (WFD) and trace recording capability enables the time history of signal events to be instantly reviewed.
Live View Analysis (LVA) TM:
Real-time analysis of continuous and periodic signal events is supported without the need to interrupt the runtime data collection process.
Artificial Intelligence (AI):
Our Threat Detection Algorithm (TDA) and Signal Combining Technology (SCT) accurately detects and characterizes wide bandwidth signals.
Demodulation and Visualization:
Demodulate and record AM, FM and SSB audio. FFT displays include the RF Spectrum, Spectral Density, IQ Diagram, IQ Vs Time, RSSI History, Analog RSSI, Audio Oscilloscope, AF Spectrum and NTSC Video Demodulation.
More Features
Threat Detection Algorithm (TDA):
Detection modes include: Minimum Detection Amplitude (MDA), Harmonic Signature Threshold (HST) and Chirp Threat Mode (CTM).
Location Differential Signal Analysis (LDSA):
Our graphical DSA model permits the import of floor plans, vertical riser, geographical maps, 3D rendering and photographs of the target area for comparative analysis of all collected data.
Time Differential Signal Analysis (TDSA):
Provides capability to generate technical operator defined DSA traces, based on runtime or post view, consisting of defined time blocks for direct comparative analysis.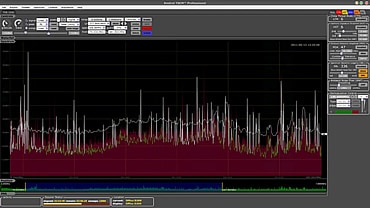 Spectrum Baseline Logging (SBL):
The technical operator can quickly capture a detailed baseline trace and reference signal list.
Session Report Generator (SRG):
Our integrated report generator and project management structure provide unprecedented sophistication in a TSCM application.