Mr Big' of UK cyber-crime among gang of eight arrested over £1.3million Barclays computer hijack plot in carbon copy of Santander scam
Fake computer engineer sent into Swiss Cottage branch to install 'bug'
The device transmits what's on a computer desktop to a remote viewer
'One is a significant arrest. He is the Mr Big of UK cyber crime,' Met says
Another gang tried same audacious heist on Santander branch last week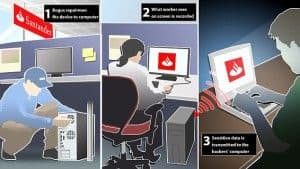 The suspected ringleader and seven members of a gang behind a £1.3million cyber raid on a leading bank were arrested yesterday.
Scotland Yard detectives say the 47-year-old Mr Big led the operation that siphoned off cash from the accounts of Barclays customers.
One of the gang posed as an IT engineer at the bank's branch in Swiss Cottage, north London, to install a device that hacked into its computer systems.
The Met Police has said a device similar to this was used by criminals, which when plugged into a computer transmits screen contents to a remote PC
But staff spotted the fraud and tipped off police. Following a lengthy surveillance operation, the trail led to a flat in nearby Marylebone, which was crammed with hi-tech equipment.
Eight men, including Chinese and Romanians, were in custody last night. Thousands of credit cards and financial records were seized at addresses across the capital.
The gang is thought to be linked to the criminals behind last week's raid on a London branch of Santander using an identical spying device.Detective Superintendent Terry Wilson, who is a specialist in electronic crime, said: 'This was a highly-organised criminal network with each individual filling a specific role.