The Operator TSCM Sweep Kit
        
ComSec LLC's The Operator Kit is a professional Technical Surveillance Countermeasures TSCM Sweep Kit provided in a single rolling hard case. With this full suite of TSCM equipment, the TSCM Operator can detect live transmissions, as well as dormant eavesdropping devices and compromises. The Operator Kit is a cost effective solution that also makes transport of the TSCM equipment efficient and convenient.
If you're looking for professional TSCM equipment with the convenience of mobility, look no further than The Operator Kit!
REQUEST QUOTE
USA Sales & Delivery Only.
The Operator TSCM Sweep Kit Includes: 
WAM-X25 Wireless Activity Monitor
The Operator TSCM Sweep Kit includes the WAM-X25 Wireless Activity Monitor which detects and logs all types of radio frequency devices in the range of 0-14 GHz. The WAM-X25 features a 0-14 GHz wideband detector that provides the highest range of coverage of all RF activity in the target area. The frequency of the detected signal (up to 6 GHz) can be seen simultaneously. And, the WAM-X25 'Livescan' software shows the detected live signal pattern graphically to help identify the signal type. This can be particularly useful when searching for pulsing or burst devices such as GPS trackers.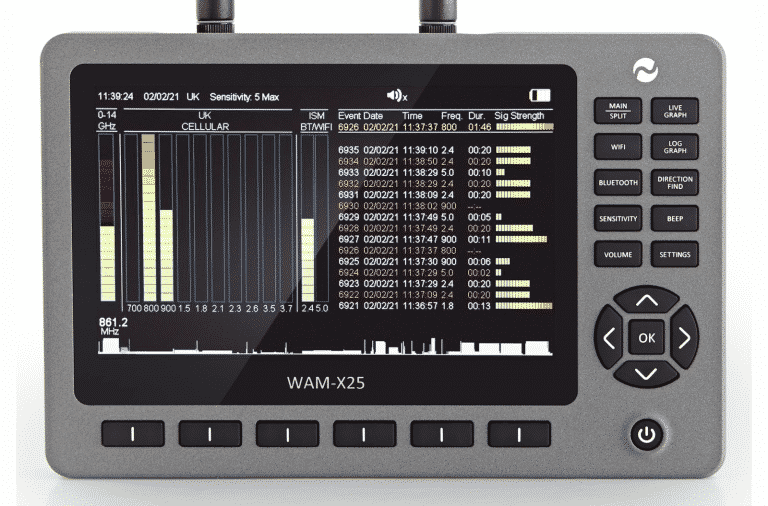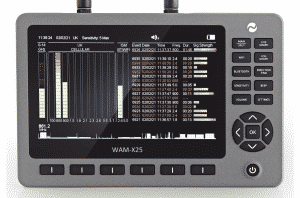 The WAM-X5 has separate worldwide multi-band cellular coverage. Simply select the international region the device is being used in and the WAM-X25 will detect signals from all the relevant local cellular bands.
The WAM-X25 has separate 2.4 GHz & 5 GHz bands for detecting the rapidly growing threat from Wi-Fi / Bluetooth / Video and other latest generation 'Store & Forward' devices. The WAM-X25 features an independent Wi-Fi Network (2.4 & 5 GHz) Analyzer to provide detailed activity information about WLAN networks in the surrounding area such as Hotspots, Routers, Wi-Fi cameras etc.
The WAM-X25 also features a built-in Bluetooth analyzer to list nearby active Bluetooth devices such as smartphones, tablets, headphones, fitness trackers, etc.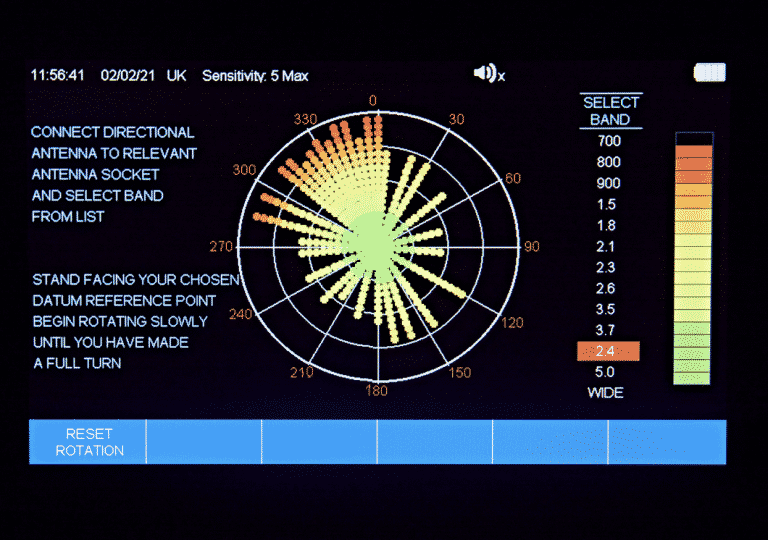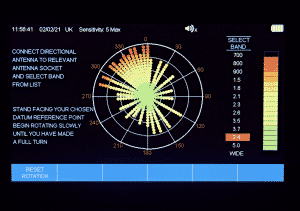 The direction find mode enables the user to locate the source of a detected RF signal by rotating the WAM-X25 through 360 degrees using the supplied directional antenna. By slowly rotating the unit, signal strength information is gathered and plotted graphically over 360 degrees to give the TSCM operator an accurate indication of the detected signal source.
View the Wireless Activity Monitor WAM-X25 Brochure.
View Product Features Summary.
EDD-24T Handheld Non Linear Junction Detector (NLJD)
The Operator TSCM Sweep Kit includes the handheld Non Linear Junction Detector (NLJD) Model EDD-24T  which detects the presence of semiconductor circuits that are used in all modern electronic devices such as mobile phones, tracking devices, listening devices, covert cameras, digital voice recorders, SIM cards etc. And, the EDD-24T will detect such devices whether they are switched on and in use, powered on but in standby mode, or even switched off without any power.
View the Non Linear Junction Detector EDD-24T Brochure. 
View Product Features Summary.
HMTP-42 Thermal Imager                                                                                                                  
The Operator TSCM Sweep Kit includes a 256 x 192 (49,152 pixels) IR thermal imager. The Pocket 2 is equipped with a high-resolution HIKMICRO VOx detector, an 8MP optical camera, and a 3.5″ LCD touch screen. It helps the TSCM operator quickly and efficiently locate hidden devices and accurately measure temperatures. The 25Hz frame rate keeps up with fast inspections and the Wi-Fi function allows the device to share images in real-time. Its RUGGED & DURABLE 16G eMMC flash storage can store approximately 60,000 standard thermal/visual images or up to 10 hours of recording videos. Its leading class built-in Li-Ion rechargeable battery can support up to 4 hours of continuously operating; 2 M Drop Test & IP54.
450 High Flux Forensic Light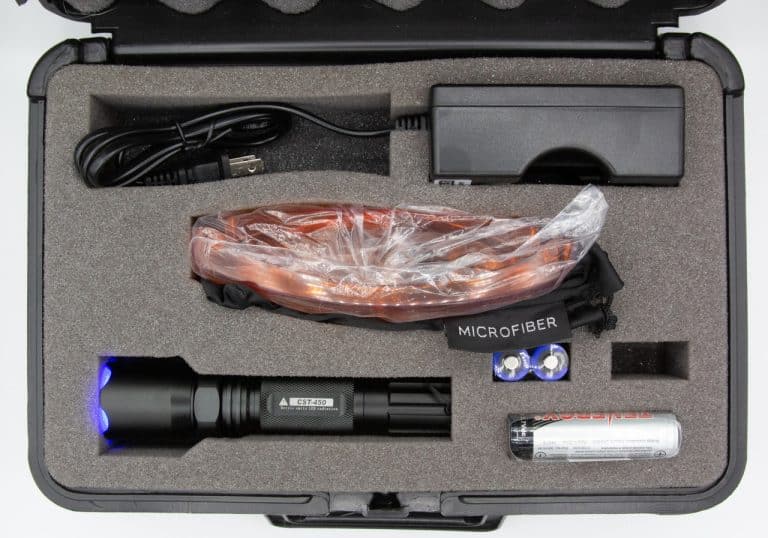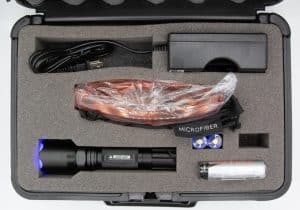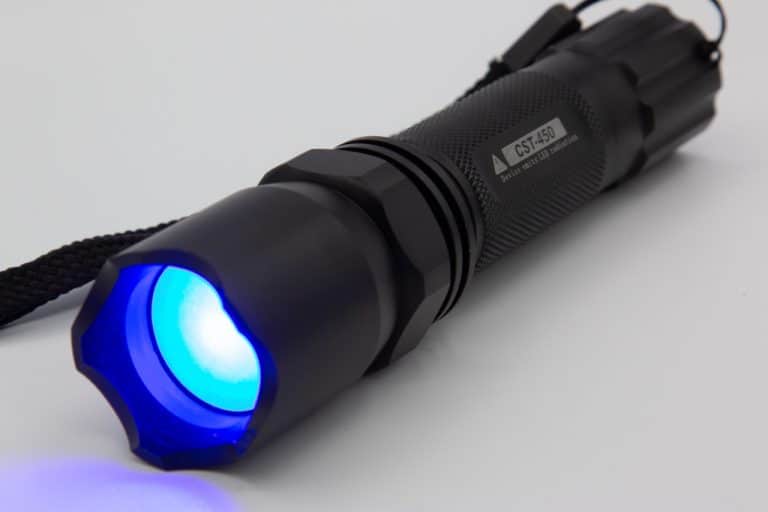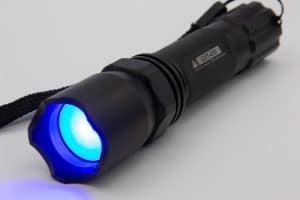 The Operator TSCM Sweep Kit includes a high flux 450-455nm forensic flashlight featuring an XPE-2 royal blue Cree emitter, black anodized body, and diffuse quartz front element.  The resulting smooth diffuse beam has no rings or harsh edges and is pleasing to use with reduced eye strain. Flashlight operates on 2xCR123A cells (included) for about six hours, or can operate on 1 x 18650 rechargeable battery. U60 orange barrier viewing glasses and battery charger are included.
WiFi Inspection Camera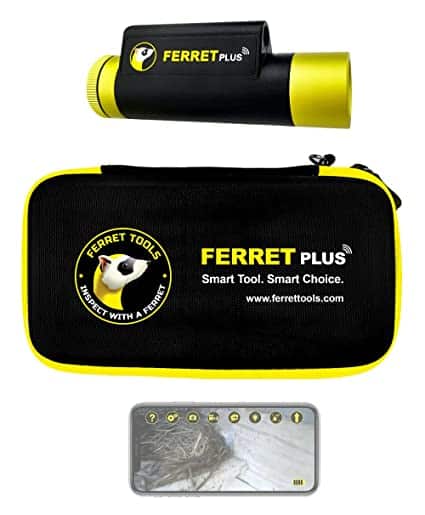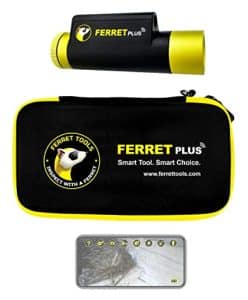 The Operator TSCM Sweep Kit includes the Ferret Plus WiFi Inspection Camera Kit. The Ferret Plus brings you the ultimate innovation in inspection technology. Includes built-in (on board) memory and the first ever non-contact voltage detector. The Ferret Plus is ideal for providing faster, easier close up visual inspections of dark and hard to reach spaces, and comes with a range of thread adaptors and a handheld extendable rod. The free app will lets the TSCM operator record photo or video directly to an iPhone, Android or tablet.
WEGA Hidden Camera Detector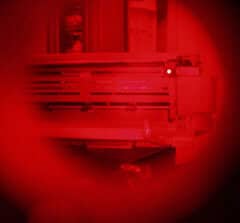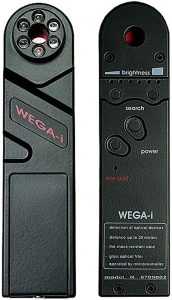 The Operator TSCM Sweep Kit includes the WEGA hidden camera detector. The WEGA can discover lenses of all types of covert cameras, not depending on their working state. Its LED matrix radiates a powerful infrared beam which is then reflected by a video cameras optics and is easily detected by the TSCM operator. The IR-filtering glass built into the WEGA helps the TSCM operator avoid natural reflections from surfaces, and concentrate on finding the exact location of a hidden camera.
Detects of all types of hidden video cameras regardless of  their working status

Distance of detection between 6.5 and 32 feet

IR filter for rejection of natural reflections

Adjustable power of radiation

Powered by 2 AAA batteries (Not included)

Battery discharge indicator
Multi Function USB & Receptacle Tester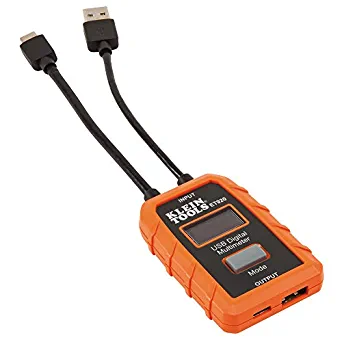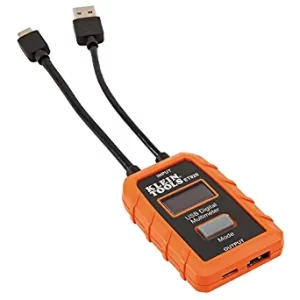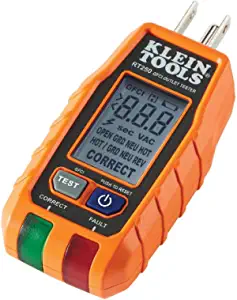 The Operator TSCM Sweep Kit includes the ET920 for Type-A and Type-C ports. It accurately and reliably measures and displays the USB port voltage, current, capacity, energy, and resistance simultaneously. It can function with any USB-A and most USB-C ports, including Qualcomm Quick Charge ports that have the ability to deliver power. The Multi-Function USB Tester provides real-time detection of the state of charge, voltage, current, capacity, electricity, power, equivalent impedance, temperature and other indicators of electrical USB connectors and cables. The ET920 will detect surreptitious technical threats embedded within USB cables, charging ports and power supplies.
The RT250 is an electrical receptacle tester that tests the wiring conditions at an electrical outlet. The LCD displays the voltage, identifies the wiring fault, and the time required to trip a GFCI device. It is designated for use with North American 3-wire 120V electrical outlets.
Tech Pouch Zippered Case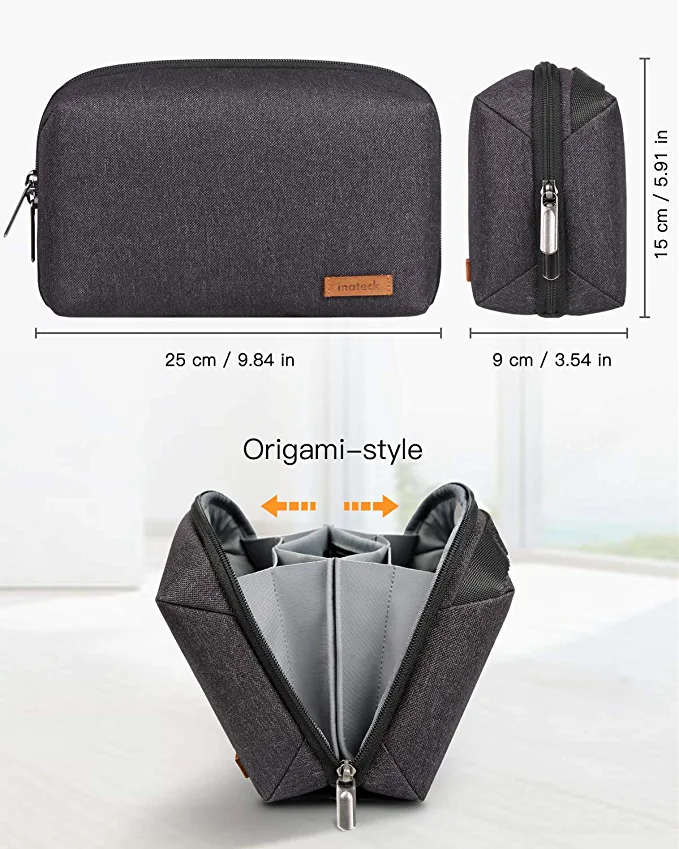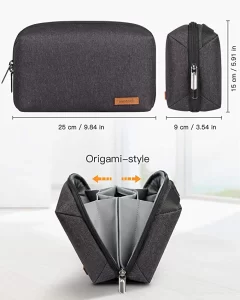 The Operator TSCM Sweep Kit also includes a zippered tech pouch to convenient store all field kit tools, chargers and lead cables for the above TSCM equipment. With high-quality material, stylish and sleek design, compact layout and ample capacity, the Inateck origami-style versatile storage bag can store various items easily. It is weatherproof & water-repellent.
REQUEST QUOTE
USA Sales & Delivery Only.
(Note rolling hard case, case insert and lid organizer pictured are representative.)
Rev: 01042023
PRODUCT HIGHLIGHTS
Detects 2G / 3G /4G / 5G  devices – plus Wi-Fi / Bluetooth 2.4 GHz & 5 GHz devices

Detects Mobile Phones, Smartphones, GPS Trackers, SMS (Texts).

Detects GSM Bugs, 3G /4G / 5G Video, Bluetooth & Wi-Fi Devices, Store & Forward devices

Worldwide Cellular Coverage – Simply select the relevant region of use

Separate Wideband RF Detector 0-14 GHz with Audio Demodulation

Separate 2.4 GHz & 5 GHz Wi-Fi Detector

Wi-Fi Network Analyzer provides data on nearby WLAN networks

Bluetooth Device Analyzer provides data on nearby Bluetooth devices

Direction Find Function for pin-pointing signal sources

Event Log records Time / Date, Band, Duration & Signal Strength of up to 10,000 Events

Log can be viewed on screen or saved to USB stick for storage/viewing on a computer

Graph Mode plots real time or historical graph of all detected cellular bands
Widescreen High Resolution 7-inch Color TFT Display
Adjustable Omnidirectional & Directional Antennas
Machined aluminum enclosure for maximum durability
View the Product Features Summary.
Detects all types of electronics – whether active, passive or even switched off
Easy to operate with an intuitive user friendly interface
2.4 GHz Transmit – up to 4 Watts
2nd Harmonic (4.8 GHz) and 3rd Harmonic (7.2 GHz) Receivers
As powerful and sensitive as much larger so called 'portable' NLJD units
Detected material Indicator 'Silicon' or 'Metal'
Will even detect the latest NANO SIM cards from up to 7.87 In.
Audible Tone and Demodulation Function through speaker or earphones
Battery life up to 4.5 hours
NLJD weighs just 1.54 Lbs.
Machined Aluminum Enclosure with Molded Plastic Antenna Cover
View Product Features Summary.
Thermal resolution: 256 x 192 (49,152 pixels)
NETD: < 40 mK (@ 25 °C,F#=1.0)
Temperature measurement range: -4°F to 752°F (-20°C to 400°C)
Accuracy: Max (±2°C/3.6°F, ±2%)
8 MP optical camera – Thermal, fusion, PIP, and optical modes
Wi-Fi Connectivity
High Temperature Alarm
Manual. automatic, and 1-Tap level and span
1.0x to 4.0x continuous digital zoom
Built-in 16 GB memory
25 Hz image frequency
3.5″ LCD touch screen display
LED Work Light
Up to 4 hours continuous runtime
Sweep/Inspection where a smooth blue beam light source is required.
Engineered smooth beam ensures excellent photographic results.
450nm Royal Blue LED Flashlight, batteries, charger & U60 orange glasses.
TECHNICAL SPECIFICATIONS
Technical Performance Specifications at 68 Degrees F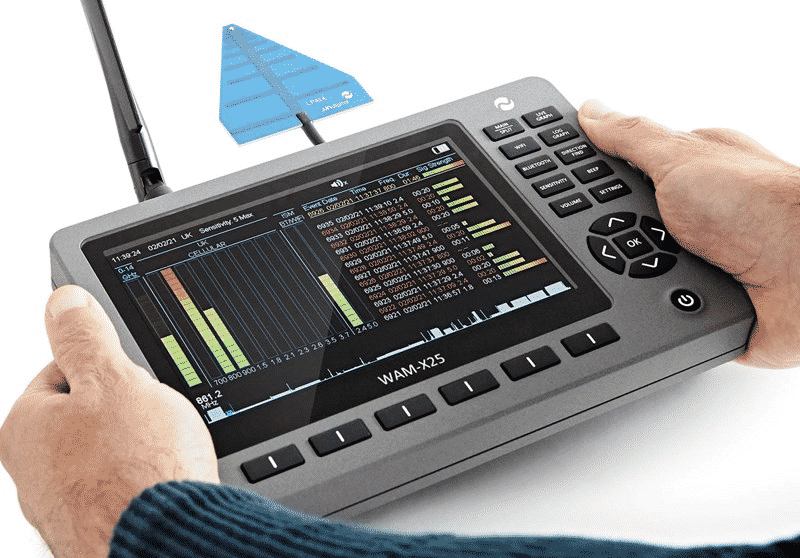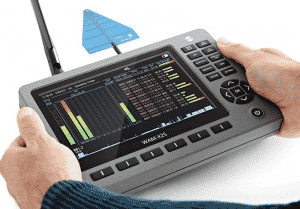 Wideband Frequency Range: 10 MHz – 14000MHz (14.0 GHz)
Cellular Regions Covered: North America, UK, Europe, Asia, Africa, South America & Australia
Cellular Frequency Range: International bands – (300 MHz to 6 GHz) – Maximum 10 viewable bands – Sensitivity -70 dBm Max
2.4 & 5 GHz Frequency Range: 2400 to 2485 MHz & 5150 to 5850 MHz
Wi-Fi Analyzer: 802.11a/b/g/n: 2.4 GHz and 5 GHz
Display: TFT Color 7.0" High Contrast Graphic Display
Battery: Internal Lithium-Polymer rechargeable ; Operating duration – fully charged battery – up to 8 hours
Charging: Micro USB socket – Charge Time ~ 4 hours
Operating Temperature Range: 5 F to 155 Degrees F – Relative Humidity < 90%
Dimensions: 9 In. x 5.9 In. x 1.1 In.
Weight: Main Unit – 2.2 Lbs., Carry Case Complete – 6 Lbs.
Signal Processing and Control: RISC Based Microcontroller with real time clock
Event Log: Maximum 10000 Events
USB Socket: For USB Stick download only
Transmit Frequency: 2.400 GHZ to 2.425 GHz (ISM Band Type B)
Transmit Power Level: up to +30dBm (1 Watt)
Radiated Power Antenna: up to +36dBm (4 Watts) within allowable limits of ISM band (Type B)
Display: 3.5 In. Color TFT Daylight Readable
Receiver Sensitivity: better than -120dBm on 2nd and 3rd harmonics
Receiver Bandwidth: Approximately 10KHz
Battery: 3.7 Volt Lithium Polymer Internal rechargeable
Battery Life: 4.5 Hours (Minimum TX Power), 2.0 Hours (Maximum TX Power)
DC Charge: Micro USB Socket 5V 1A, Input 110/220V Auto-switching – International Adaptors
Charger: Output 5V DC 2A
Audio: Internal Loudspeaker or via 3.5mm Earphone Socket
Operating Temperature: 0 to 104 Degrees F
Enclosure: Machined Aluminum Enclosure with Plastic Antenna Cover
Dimensions Main Unit: Height 8.86 In. x Width 4.65 In. x Depth 2.01 In.
Thermal Module
Detector Type
Vanadium Oxide Uncooled Focal Plane Array
IR Resolution
256 x 192 (49,152)
Detector Pitch
12 μm
Spectral Range
8 to 14 μm
NETD
< 0.04°C 40 mk) at 25°C (77°F) ambient temperature, F# = 1.0(
FOV (Field of View)
50° H x 37.2° V
Image Frequency
25 Hz
Focal Length
3.5 mm
Focus
Fixed
Minimum Focus Distance
0.3 m (0.98ft)
IFOV (Spatial Resolution)
3.43 mrad
F-number
F1.1
Optical Module
Built-in Visual Camera
3264 x 2448 (8 MP)
Focus
fixed
FOV
64.6° H x 51.5° V
Picture Resolution
Configurable: 2 MP, 5 MP, 8 MP
Video Resolution
640 x 480
Image Display
Display
640 x 480 Resolution, 3.5″ LCD Touch Screen
Screen Brightness
Manual adjustment
Digital Zoom
1.0x to 4.0x continuous
Color Palettes
7: White Hot, Black Hot, Rainbow, Ironbow, Red Hot, Fusion, Rain
Image Modes
Thermal / Optical / Fusion / PIP
PIP
Resizable and movable infrared area on the visual image
Fusion
Thermal image with visual camera details
Level / Span
Auto / Manual / 1-Tap Touch Screen
Minimum Temp Span (Manual)
2°C (3.6°F)
Measurement and Analysis
Object Temperature Range
-20°C to 400°C (-4°F to 752°F)
Accuracy
Max. (± 2°C/3.6°F, ± 2%), for ambient temp from 15°C to 35°C (59°F to 95°F) and object temp above 0°C (32°F)
Measurement Presets
Center Spot, Hot Spot, Cold Spot, Off
High Temp Alarm
Audible/visual alarm above user defined temperature threshold
On-Camera Emissivity Correction
Variable from 0.01 to 1.0 or selected from the materials list
On-Camera Reflected Temperature Compensation
Automatic, based on the input of the reflected temperature
On-Camera Transmission Correction
Automatic, based on the inputs for distance and humidity
Data Storage
Storage Media
Built-in EMMC (16 GB)
Image Storage Capacity
Approx. 60,000 images
Image File Format
Radiometric.JPEG with measurement data included
Thermal.THM.JPEG without measurement data included
Text Note
Max. 200 characters
Video Storage Capacity
Approx. 10 h
Video File Format
Standard MP4 non-radiometric video
Software
PC Software
HIKMICRO Analyzer
APP
HIKMICRO Viewer App
Cast Screen
UVC Alarm Client
Battery
Power Supply
5 VDC / 2 A (Charging via USB), fast charging
Power Consumption
1.92 W
Battery Type
Dismountable and rechargeable Li-ion battery
Battery Operating Time
4 hours continuous running per battery
(actual life varies depending on settings and usage)
Battery Charging Time
1.5 h to 94%, 1.5h to full charge
Battery Charging System
In-imager charging, fast charging
AC Operation
AC operation with included power supply (100 VAC to 240 VAC, 50/60 Hz)
General
Wi-Fi
802.11 b/g/n (2.4 GHz + 5 GHz)
Bluetooth
Bluetooth 4.2
USB Interface
ISB 2.0, Type-C
LED Light
Yes
Microphone
Yes
Buzzer
Yes, audible alarm of above temp threshold
Carrying Pouch
Yes
Protection Level
IP54 (protected against dust, limited ingress; protection against water spray from all directions)
Drop Test Height
2 m (6.56 ft.)
Warranty
3 Years for whole product, 10 years for detector, and 2 years for battery
Recommended Calibration Cycle
1 Year (assumes normal operation and aging)
Working Temperature Range
-10°C to 50°C (14°F to 122°F)
Storage Temperature Range
-20°C to 60°C (-4°F to 140°F)
Relative Humidity
< 95% non-condensing
Weight
Approx. 218 g (0.481 lb)
Dimensions
138.5 mm x 85.2 mm x 23.6 mm (5.45 in x 3.35 in x 0.92 in)
Tripod Mounting
UNC 1/4″ -20
Languages
21 Languages: English, German, French, Spanish, Portuguese, Italian, Czech, Slovak, Polish, Hungarian, Romanian, Dutch, Danish, Norwegian, Finnish, Swedish, Russian, Turkish, Japanese, Korean, Chinese
Reliable regulated solid-state blue emission from latest 3 watt light source.
450 nm emission.
Diffuse quartz front element – Smooth medium beam.
Current regulated circuitry maintains constant LED output.
Powered by long shelf-life CR123A lithium cells (included).
Also supports rechargeable Li-lon 18650 cell (now included).
Tailcap switch features momentary on as well as on/off functionally.
6″ long x 1.5″ wide approx.
Runtime 6 hours (approx., with CR123A cells).
LED lifetime > 10,000 hours.
Lanyard included.
Made in USA U60 (orange) viewing glasses.
Dual-channel charger accepts 100-250VAC input.